vol.02 The Future of Sustainable Mobility
Contributing to the achievement of a sustainable society with "diversity" and "capability to change"
A case example of ASACLEANTM, a purging compound that reduces environmental burden
The history of Asahi Kasei can be seen as a record of our determination and efforts to meet social needs. We have been working to solve various issues since our founding, based on the group mission of "Contributing to life and living for people around the world." Now, with the world facing a global crisis, Asahi Kasei is directing its attention toward contributing to achieving a sustainable society. In the first half of this article, we ask Tatsuhiko Tokunaga and Kasumi Kaizawa from the Sustainability Strategy Planning Department about the Asahi Kasei Group's views and initiatives for the achievement of a sustainable society. In the second half of this article and the subsequent article to this one, we will introduce selected examples of our sustainable products and innovations for mobility, and ask each person in charge about the background of the development and their thoughts toward the products and innovations.
Click here to contact us about Asahi Kasei's products and usage examples.
Incorporate what has been passed down for a century in today's products
Tokunaga: "Since our founding about 100 years ago, Asahi Kasei has been developing its business with the aim of solving issues in society. When we look at the world today, we know that our challenge is sustainability, and our management mission is to do whatever we can to achieve a sustainable society. In order to further clarify our group mission, we added the group vision of 'Harmony with the natural environment' and 'Living in health and comfort' in 2011. Since 2019, we have expressed our vision as 'Care for People, Care for Earth,' so that people and employees all over the world can understand the vision from the same perspective. With this vision, we ask ourselves what we can do for people, the global environment, and the biological environment so that people can live in a sustainable society."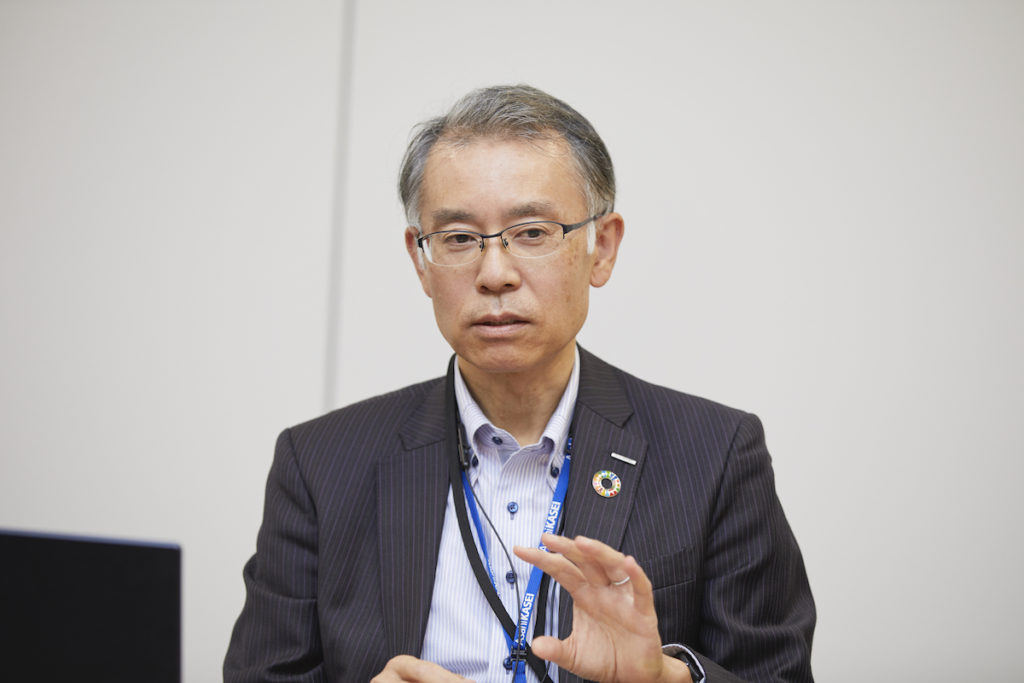 "Asahi Kasei can make a difference" with its diversity and capability to change
Kaizawa: "Asahi Kasei started as a fiber and chemical company, but we have met the needs of the times by starting new businesses. In Japan's high economic growth period, houses in Japan were so small that they were negatively referred to as 'rabbit hutches.' In order to improve poor home environments, we entered the construction material field—which was outside the scope of our business at that time—by introducing technologies from outside the company. In addition, we launched the Hebel Haus unit homes business. I think such efforts have helped Asahi Kasei to diversify business and develop the capability to change for starting new businesses."
Tokunaga: "I think that having diversity and the capability to change is important in this time when the world is rapidly changing. Especially amidst the COVID-19 pandemic, a completely different world (values and behaviors) called the 'new normal' has emerged. The way we see things is changing. Asahi Kasei is listed in the chemistry section of the stock section in newspapers, but the industry classification itself may change in the future. Even at such times, we want to contribute in a way that only Asahi Kasei can, with our various perspectives and elements which help us to create a great deal of combinations."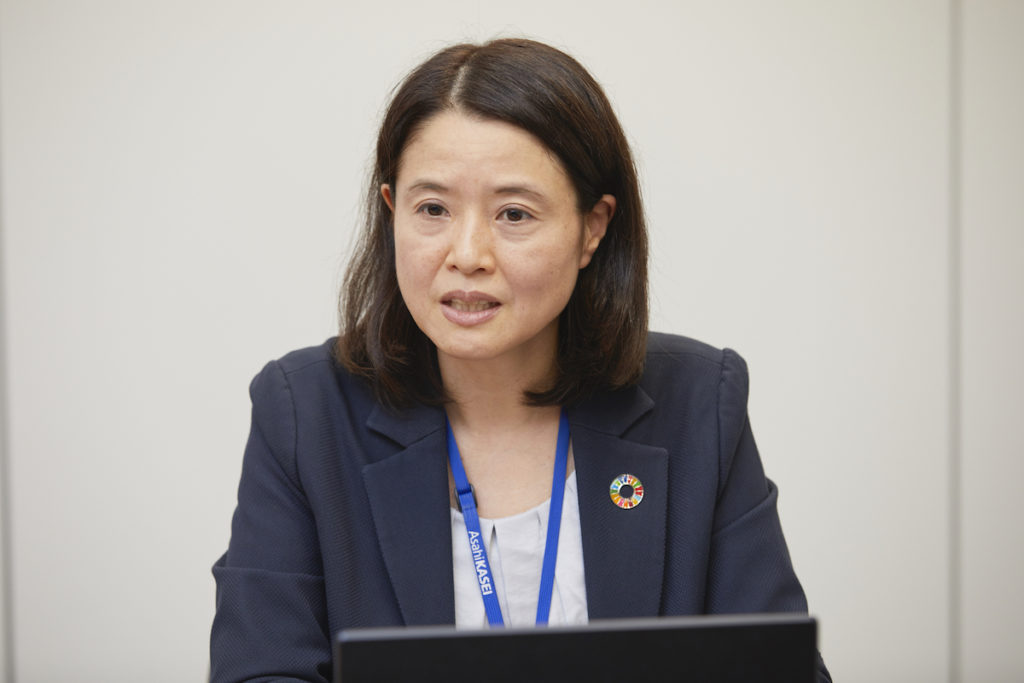 Do we offer things that are truly valuable to society?
Tokunaga: "Besides contributing to a sustainable society, the sustainable growth of corporate value is also important. It's not just about the sustainability of society and company. It's about whether or not we can offer things that are truly valuable to society and meet the needs of society. If they are truly valuable and meet social needs, they will return to us as our corporate value, or profits. Profit is generated and corporate value increases only when our efforts lead to businesses and customers buying our products. We can only go forward when cash is generated. I think it is important to create a virtuous cycle."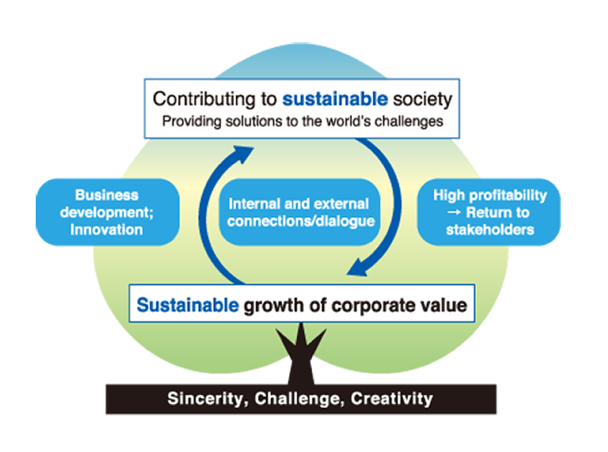 Making "Environmental Contribution Products" that contribute to CO2 reduction as our flagship products with LCA
Kaizawa: "Since 2019, Asahi Kasei has certified some products as 'Environmental Contribution Products,' which contribute to energy conservation and reduce CO2 emissions more than conventional products both in manufacturing by Asahi Kasei and usage by the customers. This is one of Asahi Kasei's efforts to build a sustainable society. In the certification process, we apply third-party perspectives including the validity of LCA (Life Cycle Assessment) calculation and the appropriateness of the comparison target."

Examples of Environmental Contribution Products
LiB separator, S-SBR, elastomer for asphalt modification, Xyron, Hebel Haus, Ion-exchange membrane process for salt electrolysis , manufacturing process for acrylonitrile, etc.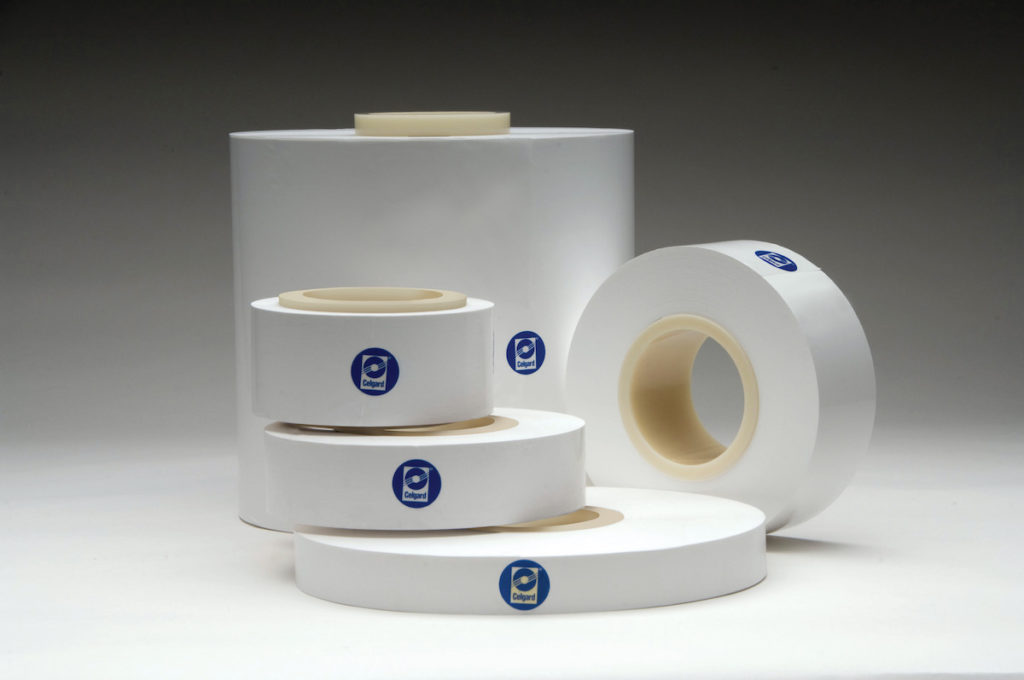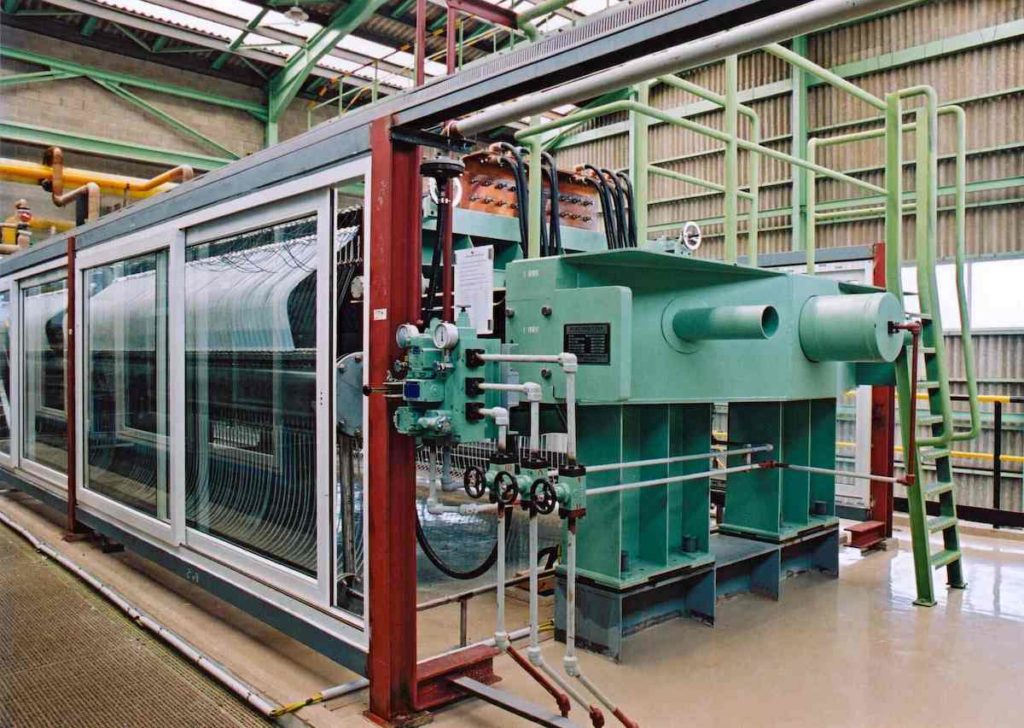 ▲(Top) : LiB separator, (Bottom) : Ion-exchange membrane process for salt electrolysis
*LiB: Lithium-ion battery separator. Lithium-ion batteries are used in electric vehicles and other applications. They contribute to a significant reduction of CO2 emissions compared to the levels of conventional gasoline and diesel vehicles. Honorary Fellow Dr. Akira Yoshino, the developer of lithium-ion batteries, was awarded the Nobel Prize in Chemistry in 2019.

Mobility segment and sustainability
Tokunaga: "In terms of GHG emissions, the mobility, transportation, and automobile sectors account for a large proportion in society as a whole. How can Asahi Kasei's products reduce GHG emissions? I believe that sustainability in the mobility sector, which is expected to grow further in the future, is important.
Our main focus is hydrogen. We are heading toward a hydrogen society, where hydrogen will be used as an energy source for automobiles. Asahi Kasei has been a front runner in hydrogen research since its founding. Through collaborating with the government and other companies, we can make use of our technology and the knowledge we have developed."
◆  ◆  ◆
Case 01: ASACLEANTM
Plastic is used in various parts of automobiles, from interiors to functional parts. The range of its use is expanding even more amidst trends toward environmental consideration such as the reduction of vehicle weight, the shift to EVs, and the elimination of the painting process. Asahi Kasei's ASACLEAN purging compound supports the plastic molding process, in which varied types and functions as well as more complex shapes of parts are required. ASACLEAN reduces the environmental burden and lowers the defect rate. We talked about ASACLEAN with Yoshikazu Sato and Yusuke Tachibana of the Performance Products Division.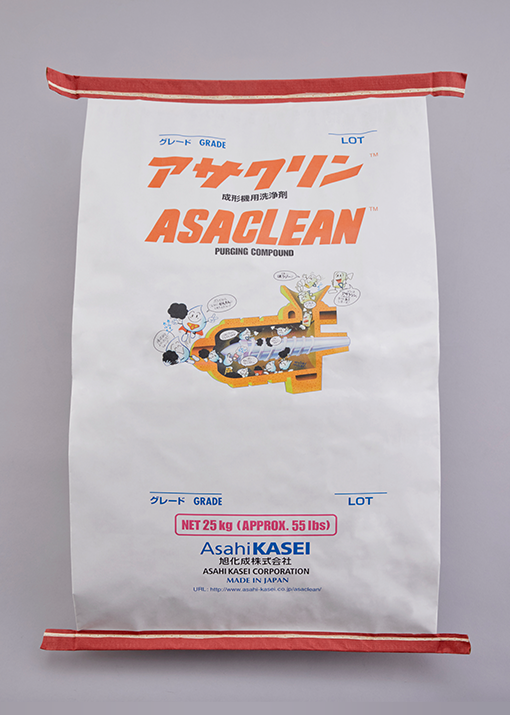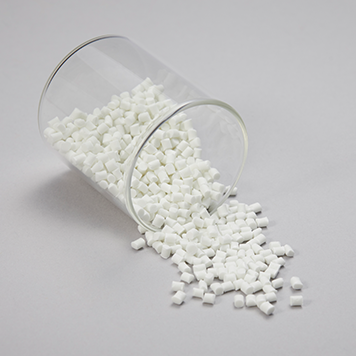 Improving customers' product quality by reducing waste
Tachibana: "ASACLEAN is a purging compound for plastic molding machines. When used to change the color or the type of resin in the plastic molding process, you can significantly save the processing time, and reduce the amount of waste and CO2 emissions."
Sato: "Even if burnt deposits or carbonized foreign matter is generated during the molding process, you can stop the problem by using ASACLEAN. You can also prevent problems by cleaning the molding machine with ASACLEAN regularly. It reduces the burden on the environment and lowers the defect rate of customers' products while increasing production efficiency and improving quality."
We connected the needs of the manufacturing sites and the opportunities we have discovered
Sato: "ASACLEAN was developed 30 years ago by a chance discovery. During a molding test in the development of a material completely different from ASACLEAN, some molded products came out with a lot of blackish foreign matter. Research revealed that the material had the effect of discharging foreign substances from the molding machine. A person who happened to hear this thought that if that property was used appropriately, it could solve problems at the plastics production sites of our customers. I don't think employees back then were as conscious of the environment as we are now, but that person knew our customers were having problems with carbides generated in plastic molding machines that were getting mixed into products, and that they wanted to shorten changeover time between colors or types of resin."
I hope production sites produce ideas, conduct development, and find the products useful
Tachibana: "ASACLEAN was developed by chance at a production site, and has been used at production sites since its development. We asked our customers to use ASACLEAN, directly asked what they needed from the product, provided feedback to the division in charge, and made improvements to expand its applications. Currently ASACLEAN is sold in 77 countries outside Japan. Sales representatives and development team members at Asahi Kasei visit about 8,000 customers in some major areas abroad and in Japan. In some cases, customers who used ASACLEAN for the first time successfully lowered their defect rate from over 10% to 0.1%. I feel really happy when I hear comments of gratitude or excitement from customers. They say things such as, 'I can't believe it, it's like magic!'"
Sato: "The will to release better products and help people in various ways drives us forward in developing new products."
Future visions: "pursuit of further environmental contribution," "continuous evolution of market creation" and "promotion of Digital Transformation"
Tachibana: "We have three visions for the future. The first is to pursue further environmental contribution. I feel we have to step up our efforts and find new ways to make environmental contributions. For example, making products using materials that emit less CO2 than the existing materials; improving the performance of our products and reducing the amount of waste generated by customers; and creating an up-cycle system to remake the waste into usable things while reducing the amount of waste. We wish to generate innovation by creating something appealing on the evaluation axis that is completely different from the two axes (performance and price) we have used so far.
The second is to continuously evolve the creation of the market. Not only will we market ASACLEAN outside Japan in places where it has not been used, we will also create new markets in countries where it is already widespread. We want to capture the movements in society and create something that is one step ahead. For example, if 5G becomes popular, we will consider future changes in plastics or the emergence of new markets that have never existed, and prepare new proposals.
The third is to promote Digital Transformation. If we want to provide high-quality services and information to tens of thousands of customers globally, we must conduct digital marketing and promote AI-based initiatives. Measures to digitize information will be almost complete by the end of this fiscal year, so we will continue to work on evolving our business by making use of digital information."
Click here to contact us about Asahi Kasei's products and usage examples.
This article was published on January 18, 2021.