vol.07 Automotive Interior Survey
What do drivers expect from vehicles and their interiors?
Asahi Kasei releases the findings of its "Automotive Interior Survey 2021" consumer awareness survey
The world is experiencing a paradigm shift, as the auto industry in particular is said to be at a once-in-a-century turning point. What do car users expect from vehicles and their interiors in the future? Since 2019, Asahi Kasei has conducted its annual "Automotive Interior Survey" of consumers in Japan, the United States, China, and Germany. While monitoring trends in important factors that drive consumers' decisions on vehicle purchases, this survey explores themes that have been attracting attention in the last years: interior cleanliness, sustainability, and connectivity.
Recently, Asahi Kasei released its "Automotive Interior Survey" conducted in December, 2021. In this interview, Hauke Witting of Asahi Kasei Europe GmbH, who is responsible for the survey, shares insights on its key findings, and gives an outlook on the latest survey conducted in November 2022.
Background of Asahi Kasei's surveys
The auto industry is one that changes constantly, and users' needs evolve influenced by factors such as social and personal demands, laws and regulations. However, since vehicle manufacturing is a high-level industry with long life cycles, new developments are extremely complex and time-consuming. It is essential to stay up to date and to recognize the needs of the market and users at all times.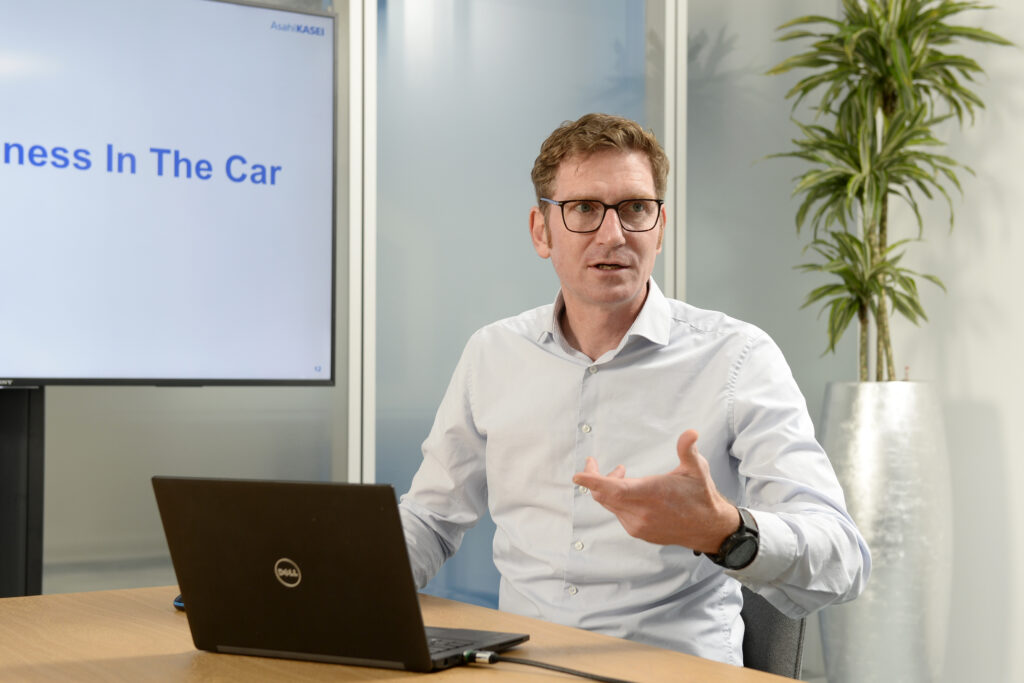 In the mid 2010's, the trends toward a shared economy, autonomous driving, and EVs all arose simultaneously. We reviewed other available surveys to get a sense of what users really want from the vehicles of the future, but we were unable to find research that offered the degrees of detail that we need. In response, we designed our own "Automotive Interior Survey" in collaboration with Cologne-based research institute SKOPOS, which has a long track record of automotive-related research.
The "Automotive Interior Survey" is an online panel survey with around 4,000 participants: about 1,000 in each of Japan, the United States, China, and Germany. Most of the participants are end-users, such as drivers or persons who make decisions on new vehicle purchases. On the customer side – automotive manufacturers (OEM) and suppliers (Tier 1, Tier 2) – the annual execution of the survey is very much welcomed, as a continuous data collection allows a real trend analysis. Data from this survey have already been put to use in development of new Asahi Kasei products, such as antibacterial and active noise-cancelling technologies.
Focal points of "Automotive Interior Survey 2021"
1. Changes in consumer mindsets and demand seen from regular observation
One of the key points of "Automotive Interior Survey 2021" is how the answers have changed over time on topics that have been regular subjects of the survey. For example, brand loyalty, which generally had been considered to be high, is actually much lower than we originally expected – throughout all four regions. Only every second car user in Japan, the US and Germany would purchase a car of the same brand as the current on. In China even only every fifth! These data show that automakers need to work harder to build their brands in order to retain existing customers and secure new ones.
Comparison of the survey results over the years also provides a perspective on how both consumers' mindsets and demand for vehicles have changed due to the COVID-19 pandemic. In 2021, the popularity of car sharing decreased substantially in the United States. Going forward, these data should be observed closely in order to ascertain if this will continue as a long-term trend or if car sharing will attract new interest amid growing awareness of sustainability.
2. We need to pay close attention to global megatrends and local characteristics
While the electrification and carbon footprint reduction of vehicles are common topics that move car users worldwide, responses on some topics vary considerably by region. In Europe, users' requirements for cleanliness, particularly in car interiors, have increased from before COVID-19. Especially car users in Germany and the U.S. paid particular attention to cleanliness inside the car. Chinese car users were more concerned about unpleasant odors inside the car, and those in Japan by dirt on the exterior.
In the 2021 we put a special focus sustainability. While interest in this subject is growing from year to year in each of the countries, the understanding of what makes a car sustainable differs greatly.
For example: Do car users consider an EV as such already as sustainable? Or are they even looking beyond at the use of recycled materials, or the overall carbon footprint of the car? When I looked at the findings, I saw that the results differed by country. For example, when asked about the aspects of a sustainable car, 52.7% of the German respondents answered "Materials made from highly recyclable sources," while 43.1% respondents in Japan answered "Hybrid technology." These figures clearly show that customer preferences can vary greatly in the different regions and with that the features of the vehicles must therefore be designed and developed accordingly in order to be marketed successfully.
Overall, on average across all four countries, 48% of respondents were willing to pay more for a sustainably produced vehicle. It is interesting to note that the maximum additional amount they were willing to pay averaged US$3,000. Of that amount, they were willing to pay up to US$500 for a sustainably manufactured interior.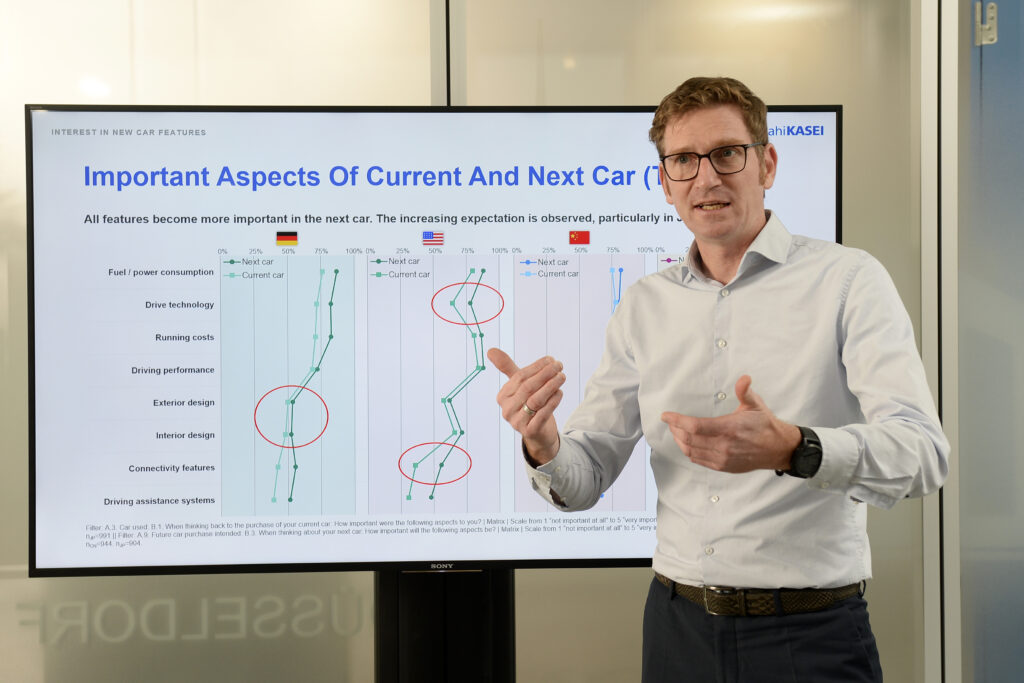 The latest survey from 2022 gives answers on car user's demands towards autonomous driving.
In recent years, the way users operate their vehicles has changed. Whereas in the past functions were largely operated via a specific switch or the rotary-push button, today the touch panel known from smartphones is generally preferred. We have already begun analyzing the results of the newest survey conducted in November 2022, and the results confirm this trend. There continues to be little interest in gesture control as the preferred input method.
On the subject of autonomous driving, the survey asks users how they would like to spend their time in autonomous vehicles, that will be on the road in the foreseeable future. Here, car users are obviously looking for a high degree of comfort. Maximum relaxation paired with an increased sustainability of cars will be the main innovation drivers.
Asahi Kasei has a broad range of solutions for both challenges, as shown in our newest concept car AKXY2. With our cross-divisional approach and expertise across the entire material value chain we can offer the OEMs new perspectives, ultimately helping them to make a difference and to satisfy the needs of the car users.
This interview was published on March 9th, 2023.