vol.04 Sound Management
Driving experience will be more enjoyable with sound management.

~Part 2: "Passive" Solutions via High-performance Materials~
In the second installment of our "Sound Management" special edition we will look at "Passive" solutions*1 via high-performance materials. As the world of material development technologies continues to evolve, the "Sound Management" approaches inherent in Asahi Kasei's material solutions have been drawing considerable attention. Some of our signature products are the nonwoven fabric "Precisé™ " – a super thin tri-layered fabric – and "Sunforce™(AM)" – a polyamide resin made into a foam. Looking onward to 2024, automotive exterior noise regulations are becoming stricter and high-level material contributions are being sought in this realm that Precisé™ and Sunforce™(AM) can provide. Let's turn to the representatives of our business divisions to learn more.
*1 "Passive" solutions absorb and control sounds. "Active" solutions produce sounds or vibrations to work against external factors.
(* For the previous article, please see Part 1.)
The world's only sound absorbing nonwoven fabric – "Precisé™"
The product name "Precisé™" derives from the French word "précise." This ultra-thin fabric is weaved into the top part of fabric sheets with Asahi Kasei's original technique, and is being implemented in a wide variety of materials for daily life and engineering purposes. How can this amazing technology help contribute to sound management solutions and benefit the automotive industry? Let's look to Mr. Yasuhito Takahashi and Mr. Katsuya Takahashi from our Spunbond Team for the answer.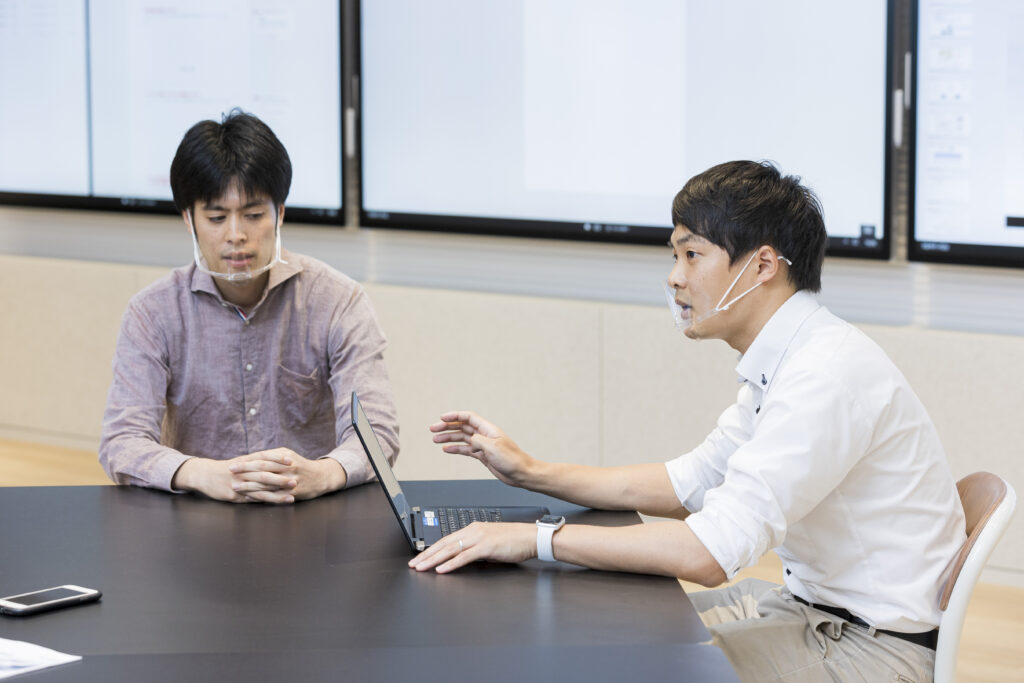 The World's First! An ultra-fine polyester fiber layer sandwich
Yasuhito Takahashi: "Our team is in charge of a type of nonwoven called 'spunbond' that lays within Asahi Kasei's wide range of fabric products. There are many different types of nonwoven spunbonds, but sound absorption properties (the ability to absorb vibrations in the air and dampen them) are an extremely unique feature that only Precisé™ holds. Traditional nonwoven spunbonds are comprised of a single-layer, and can be used for things like cosmetics masks. However, Precisé™ has a tri-layered structure that sandwiches an ultra-fine fabric layer between two traditional nonwoven spunbond layers. This ultra-fine fabric layer plays an extremely significant role to enhance sound absorption performance. Using polyester as a base material, Asahi Kasei is the only company in the world that can manufacture this one-of-a-kind product."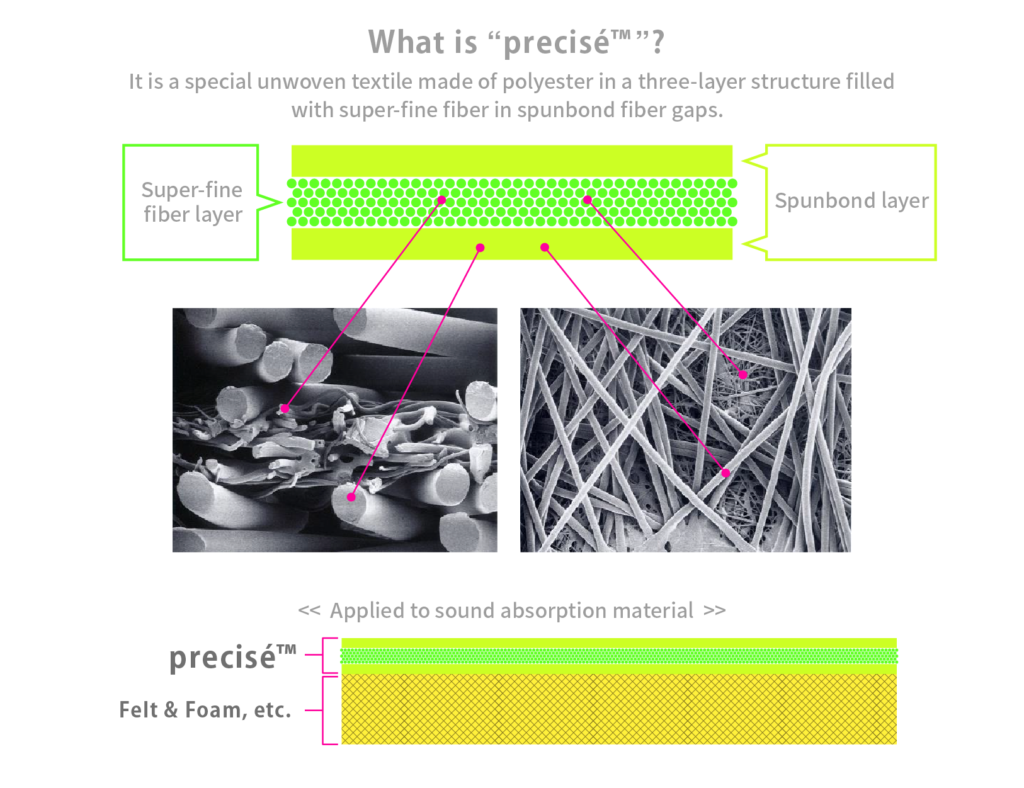 Attain thinner and lighter features while enhancing the base material's sound absorption performance
Katsuya Takahashi: "By affixing Precisé™ to the surface of the material, the base material's sound absorption performance can be improved while reducing the total amount of material used."
Yasuhito Takahashi: "The graph above shows one example of the effect of Precisé™ when felt is used as a base material. Affixing just a 0.25 mm-thick layer of Precisé™ to a 10 mm layer of felt provides a better sound absorption effect at 1,000 Hz or higher frequencies than even a felt layer of twice the thickness. Being significantly thinner, the overall weight of the fabric is also reduced, in turn improving the performance of the vehicle. So, if Precisé™ is used to reduce the total amount of fabric in the vehicle, the total cost of the fabric can also be reduced depending on the price of the base material.
There is also an effect when replacing felt with urethane, so Precisé™ can be used regardless of the base material as a sound absorptive surface 'skin.'"

From engines to roof liners, Precisé™ can be used on a wide range of parts
Yasuhito Takahashi: "The area that has seen the most advancementin development for automobilesisin the engine vicinity. Having excellent heat-resistance, flame-retardance and water-repellency, Precisé™ is perfect for vehicle parts that experience high temperatures, such as the engine hood, dashboard insulator, engine compartment, and so on. We also recommend Precisé™ for sound absorption as the surface material of parts where porous materials are applied or when multiple sheet panels are bonded together as a base. The ultra-fine layerfabricsthat have been used on surface materials in the past were not strong andwould quickly show signs of wear like becoming fuzzy when grazed, but Precisé™ protects the ultra-fine layer sandwiched within its tri-layer structure, so it is resistant to abrasion."
Katsuya Takahashi: "Additionally, Precisé™ is easy to use also due to its 'conformability' as it can conform to the shape of even parts of the car with complex wiring. Because of these great features, I think this is a brilliant idea that I'd like to recommend to all customers."

Precisé™ is so diverse – are you considering any product collaborations?
Yasuhito Takahashi: "We use one word to describe Precisé™, though it has many different types andits thickness or design can also be changed. The density of the ultra-fine fabric layer in the middle can also be adjusted to perfectly control the air that flows through sound,as well as control the level of sound absorption and which frequency is removed. Thus, we can present Precisé™ to our customers as a standalone product or propose it as a product to be combined with a base material. As Precisé™ is one of our products that can bring out excellent sound absorption performance when bonded with various base materials, we have just started moving forward with a prototype together with Asahi Kasei's own Sunforce™(AM)."
Learn more about Precisé™ at the link below:
https://www.asahi-kasei.co.jp/fibers/en/precise/index.html
New invention! Sunforce™(AM), the foam engineering plastic (EP), with sound absorption capabilities
Sunforce™(AM) is a polyamide foam resin and a new breakthrough material that is capable of sound absorption. Now we will ask Tetsuo Nakamoto of Asahi Kasei's R&D headquarters, who developed a way to make the previously impossible possible, and Shoji Imai of our Polymer Technology Development Headquarters about the characteristics and what types of contributions we can expect from the product.

EP for automotive application at 1/5 or less weight?!
Nakamoto: "Sunforce ™(AM) is a foam EP (engineering plastics are high-performance resins) that was developed as a new grade under the Sunforce™(AM) series*2. It is a bead-like material made from a foaming polyamide-based resin – the same as nylon – that can be molded into various shapes. Since polyamide resin has high heat-resistance as well as oil-resistance and chemical-resistance, it has been traditionally used as an EP for automotive applications, but Sunforce™(AM) has a combination of the excellent properties pertaining to polyamide resin as well as the extremely light weight benefits of foam. The density of Sunforce™(AM) is about 1/5 that of polyamide resin (5.5 times expansion ratio). Furthermore, with technology we are currently developing it will be possible to achieve up to 1/7 or 1/8 the density (7 to 8 times expansion ratio)."
*2 Sunforce™ was also discussed in special theme vol.03: Cruising distance.
https://asahi-kasei-mobility.com/en/interview/going_the_distance/
One step ahead of the market needs for noise restrictions
Nakamoto: "Polyamide is a difficult resin make into a foam, so until now a polyamide-based foam with a high expansion ratio did not exist. However, a few years ago we established a goal of developing a polyamide foam and through continued basic research on the foaming process we finally succeeded in making it a reality. At the same time, in addition to light-weighting functionality for automotive use, we considered the needs for NVH (Noise, Vibration, Harshness), which were drawing attention from stricter automotive noise regulations (such as UN-ECE R51-03, the United Nations Regulation on the Noise from Four-wheel Vehicles), and began technological development for a revelation in sound absorbing properties. Conventional hard resin foams (like Styrofoam) do not have sound absorbing properties, but we were able to make the foam particles in a specific form and thus the only polyamide foam with sound absorbing properties, Sunforce™(AM), was born.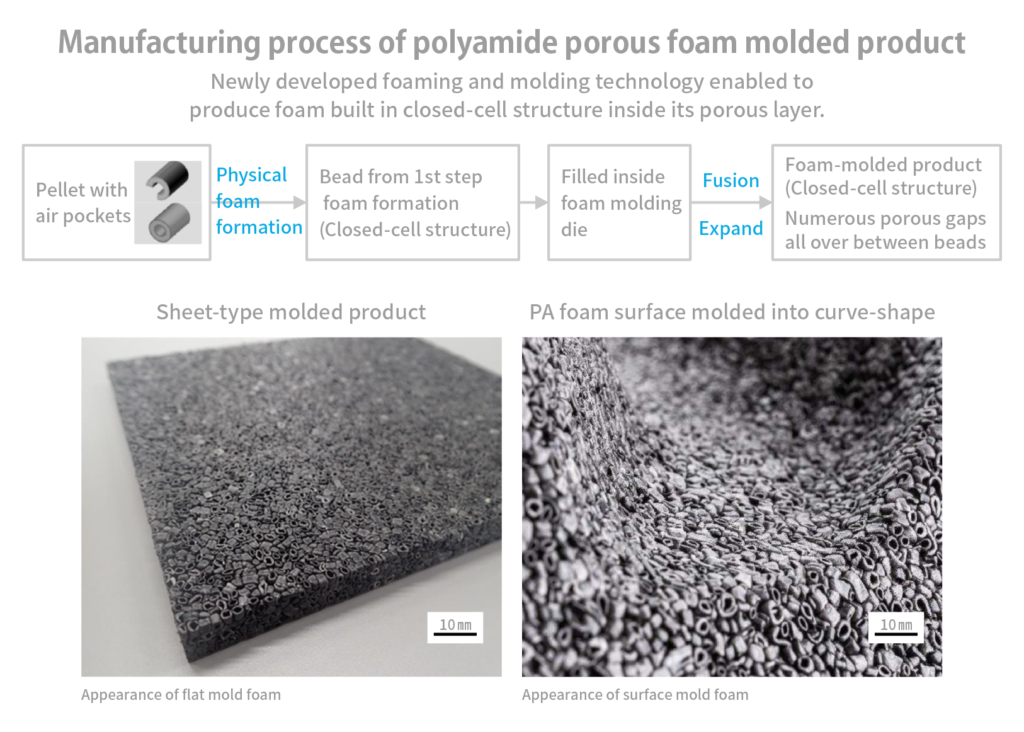 We found a way to produce Sunforce™(AM) in a special bead-like shape using our newly developed foam bead manufacturing and foam molding technology. By creating a porous bead foam with tiny millimeter-sized holes, we succeeded in giving it sound absorbing properties. The sound waves enter these holes and then it is dampened."
Good at sound absorption/cancellation of mid to high frequency noise at 1,000〜3,000 Hz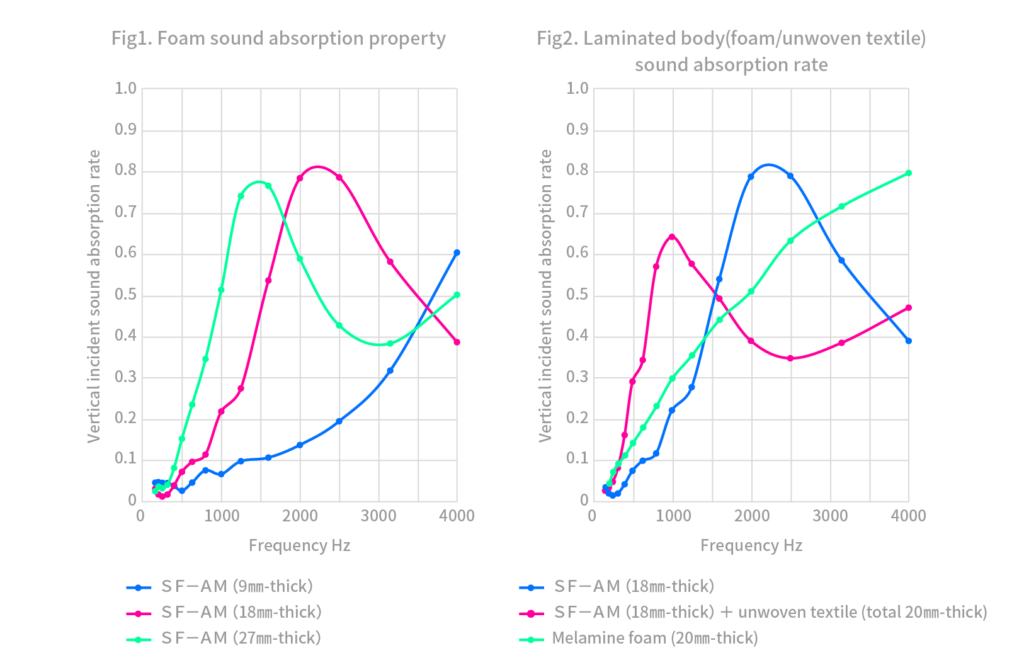 Nakamoto: "One of the beneficial features of Sunforce™(AM) is that it provides a high sound absorption rate between 1,000~3,000 Hz frequencies (Fig.1). This frequency range is actually equivalent to that of the sound for the vehicle engine motor, so it is optimal for sound absorption. Also, if Sunforce™(AM) is bonded together with other materials, the sound absorption frequency range can be changed. For example, by stacking layers of nonwoven fabric on the surface of Sunforce™(AM) where sound enters, the target frequency band can be lowered (Fig.2). By adding a combination of nonwoven fabric and acoustic insulator (i.e. resin film) in layers on the surface where sound enters, there will be a wider frequency range for sound absorption (Fig. 3). Furthermore, we have proven that particularly strong sound absorption occurs by laminating a hard resin layer on the surface opposite to where the sound enters."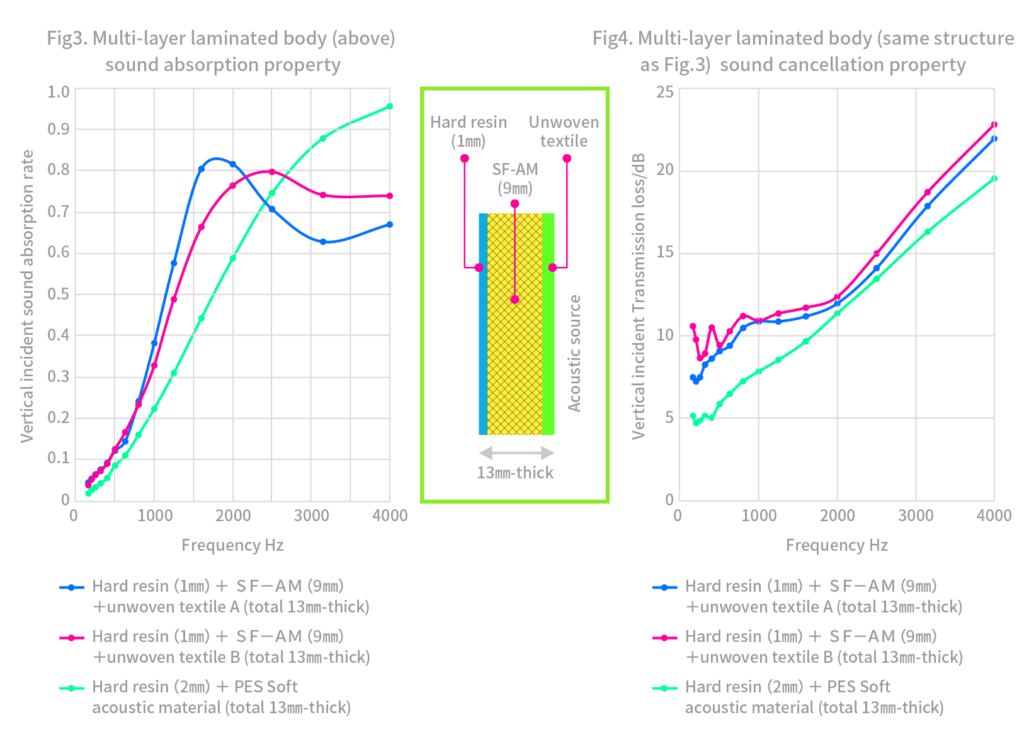 Excellent handling and easily moldable into complex shapes
Nakamoto: "Being different from generic sound absorption material made of glass wool or felt fabric, Sunforce™(AM) is a rigid foam in a stable shape, so one of the major benefits is excellent handleability. Furthermore, another great benefit is that it allows the use of traditional generic bead molding machines for a variety of components with complex shapes, such as sound insulator covers or piping structures. Sincecomplex shapes (uneven shapes) can be easily formed on the surface of the foam, arranging the uneven surfaces facing each other can leave spaces for heat to escape while improving sound absorption performance, as well as allow for more design freedom."
Cancel engine noise, road noise in EVs, and more
Nakamoto: "Sunforce™(AM) is able to contribute to the reduction of in-cabin noise as well as external noise if embedded into various automotive components. For gasoline engine vehicles, the insulator and sound insulator cover near the engine compartment would be the primary applications. As EVs become more wide-spread, sound management of frequency ranges for sounds other than the engine, like road noise, inverter electromagnetic noise, and noise from the air conditioner intake/exhaust is expected to be needed, so we are advancing development to contribute to this as well."
Proposals for component design and collaborative features for different materials as well
Imai: "As our Sunforce™(AM) is not capable of creating sound by itself (like electronics can), we are trying to propose component designs (NVH designs) that could maximize the sound absorption/cancellation performance of Sunforce™(AM) using acoustic CAE, aiming to support customers' needs for component noise reduction. Since the automotive industry's mainstream development shifted the focus from gasoline engine vehicles to EVs, customers need support for a wider range of frequencies that Sunforce®︎ AM alone cannot provide optimal performance (the lower frequency range of 1kHz or less and the higher frequency range of 10kHz or more). In order to support this change, we have started working on the proposal of complex designs using fiber-based sound absorption/cancellation materials (like resin film) as well as sound absorption component designs via panel vibration or resonance that make the best use of the strengths of Sunforce™(AM), which includes great moldability for complex shapes. In response to customer needs for creating a "quiet (comfortable) space in the car," we have recently started proposing not only Sunforce™(AM) on its own, but collaborative functional proposals with Precisé™ and 'Active Noise Cancellation' electronics."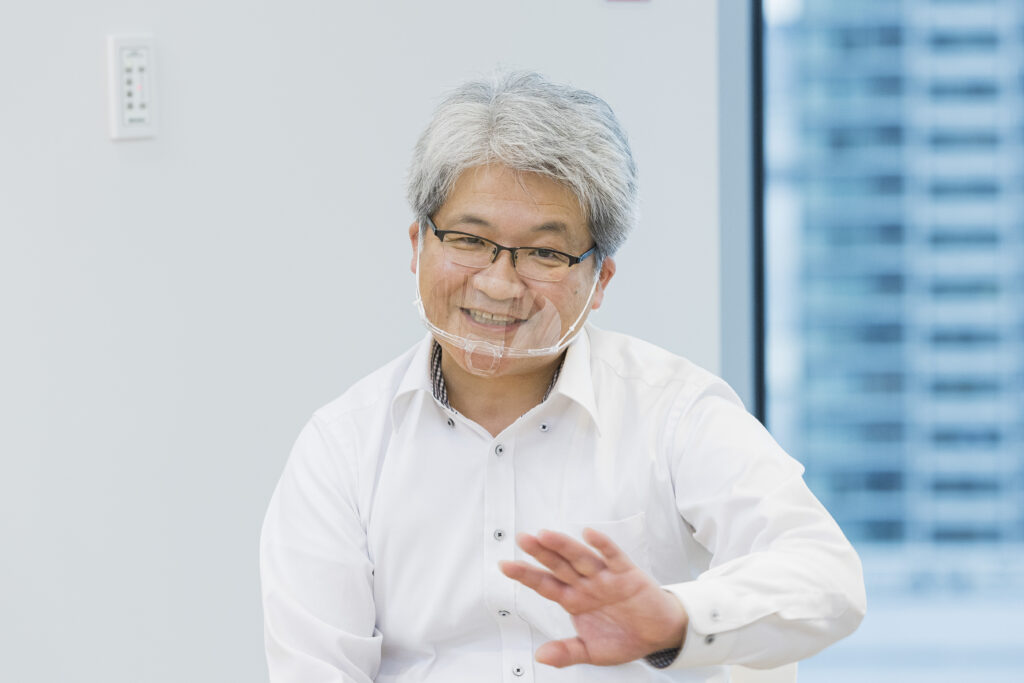 Learn more about Sunforce™(AM) at the link below:
https://asahi-kasei-mobility.com/en/products/sunforce_am/
https://www.asahi-kasei-plastics.com/en/technology/sunforce_am/
Aiming for "Total" solutions
The greatest advantages of our high-performance materials for sound management ("Passive" solutions) like Precisé™ and Sunforce™(AM) are their ability to contribute to the noise cancelation of mid to high-range sounds while reducing weight and the amount of material used. As such, the benefits of reducing costs and burden on the environment are clear. At the same time, no individual product is almighty and there is a limit to what they can do on their own. In addition to the passive material collaborations that we introduced in this installment, we are also starting endeavors for "active" approaches through electronics. As for Asahi Kasei's "Total" solution and the individual ideas on the scene… We will continue in our 3rd installment.
This article was published on December 15, 2021.