vol.05 The Future of Automotive Sentience
Emotion-focused automotive design for a fabulous car ride experience

Innovative research into emotional value in pursuit of ever more effective comfort solutions
The automotive industry is driving a technological innovation trend of historic proportions in order to, among other purposes, promote a shift to new-energy vehicles such as EVs, develop autonomous driving technologies, and support plans for future urbanism. As a range of sophisticated automotive functions become widely popularized, automakers have begun to focus on increasing the emotional value of their products by exciting users' emotional sensitivity. Following on from the report on a sound design project included in the previous theme (vol. 04), this two-part article describes unique in-vehicle design efforts aimed at comfort solutions. Part 1 introduces three-dimensional (3-D) honeycomb fabric CubitTM, the key source of inspiration for developers, and Part 2 presents a report from Asahi Kasei's R&D Laboratory for applied product that zooms in on the endeavors of researchers who are adopting scientific analysis processes, including thermal measurement, for the purpose of enhancing the comfort of fabrics and studying emotional sensitivity in order to utilize resultant findings to innovate product developments.
Click here to contact us about Asahi Kasei's products and usage examples.
CubitTM applied to automotive interior to add new emotional value. Unique 3-D honeycomb fabric
CubitTM is a hallmark of Asahi Kasei's novel fabric materials that pursue wear comfort. It is equipped with an array of functions that have been achieved through more than 30 years of R&D efforts, and that are expected to open up new possibilities for automotive interior applications that can add new emotional value to automobiles. Hiroshi Yamazaki and Toru Seki, representing the technology development and marketing divisions, respectively, give details about the possible applications of key product features.
▲One of the standard types of CubitTM fabrics from its broad lineup.
Seki: CubitTM is a product name of Asahi Kasei. It is a three-dimensional knitted fabric with a double-raschel structure. Both the front and back face of the fabric are woven out of soft, fine multifilament yarns of the kind primarily used for clothing material in order to provide a smooth feel and pleasant appearance. Materials for the connective layer are woven from monofilament yarns, which are long and thick and suggestive of fishing line, thus providing flexibility and resilience so as to support a good cushioning property. Rather than being bonded to one another, one of the features of this product is that the three layers are knitted together into a single configuration, and the related process has been patented.
Superior pressure resistance distribution and vibrational absorption to reduce fatigue related to long periods of driving
Seki: For the use of car seat covers, CubitTM is hung up over the metal frame of the seat base, like a hammock. The material transforms according to indentations made where the user's body comes into contact with it. It provides an excellent fit and hold, thus supporting the bodily posture effectively to reduce the user's fatigue. The key to this performance is the superior pressure resistance distribution property, meaning it exhibits elasticity in a crisscross manner to resist pressure applied to the relevant area as a whole, rather than at each specific region.
Yamazaki: This material is able to distribute overall pressure from the user's body weight in all directions, preventing pressure from being solely directed downward. In contrast, conventional non-repellent materials allow the user to sink down onto the seat and subsequently remain in that sunken state, which often becomes a cause of fatigue and pain in the contact area as a result of extended use. The same issue holds true for beds and pillows. To achieve proper hold performance, appropriate repellence is essential, particularly for recovery from the sunken state.
Seki: CubitTM boasts a consistent, durable cushioning performance. In addition, it has good vibrational absorption to reduce fatigue related to driving for long periods.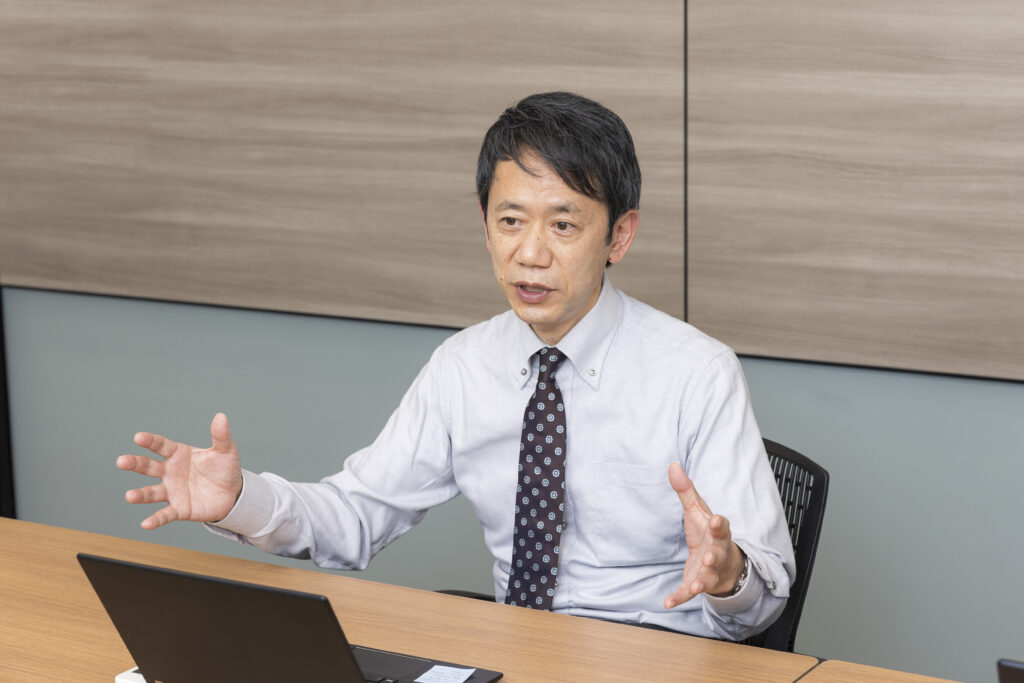 Overriding breathability enables sweat-free car seats
Seki: CubitTM has a mesh structure, as can be seen from its appearance, which provides adequate breathability suitable for comfortable car seat cover fabrics. The material can retain air inside, which helps achieve a less-sweaty seat in hot weather and excellent thermal insulation in cold weather.
Yamazaki: You can check out these effects yourself by using certain products, such as a wheelchair seat cushion. Use one in your office, and see how you can stay sweat-free even in the middle of summer.
Superior light permeability presenting future design visions
Yamazaki: Let's talk about the distinctive light permeability of CubitTM, an additional feature of the product. In addition to car seat interior, we are considering the possibility of offering new applications using this property. Specifically, the material can be adopted for automotive ceiling and door linings, among other purposes, in order to project light from behind the fabric to present artistic compositions of a variety of colors and patterns as designed. We are aiming for a distinctive creative design capability that is made possible only by CubitTM with its characteristic 3-D honeycomb structure. At the 2020 CES, the world's largest electronics trade show, which is held in the U.S., one automaker presented a concept car adopting honeycomb-structured fabrics that resemble CubitTM, which garnered an enormous amount of attention. We have begun to receive and respond to inquiries from Japanese automakers about CubitTM for use as vehicle interior.
We have already displayed a number of developments at trade exhibitions. One example is the use as a material for a center armrest with an embedded touch-screen control panel that is illuminated by a light source located at the bottom of the armrest. You can turn the display on and off as necessary.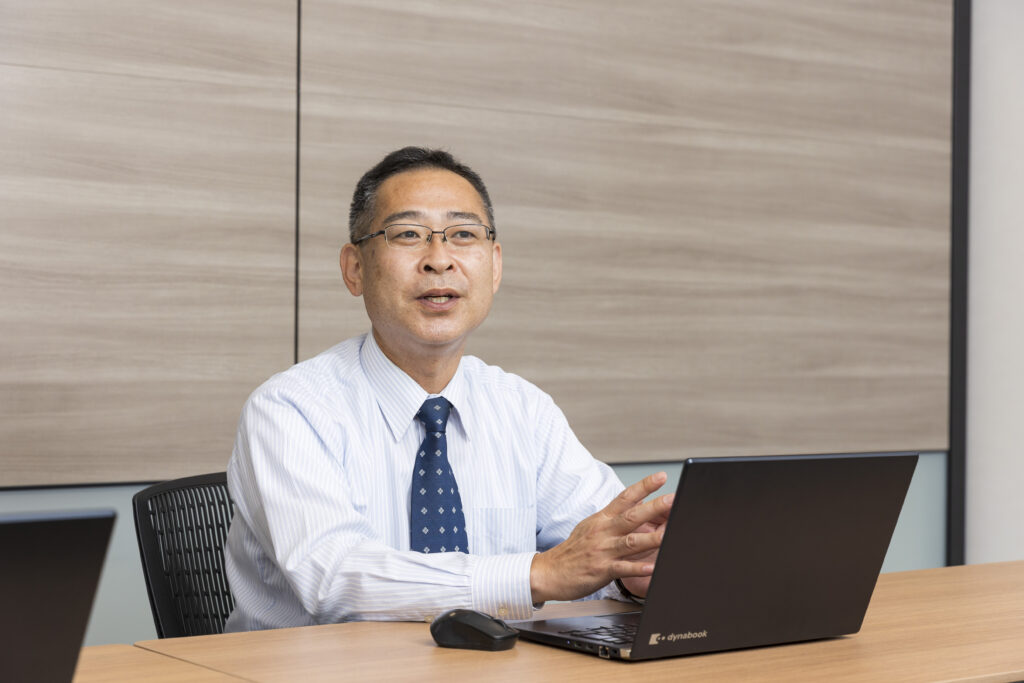 Seki: We are looking to leverage the creative design capability based on light permeability for the purpose of making the in-vehicle space more attractive with respect to appearance and feel as well as user comfort. We can propose and accommodate many different plans, for example, to produce plain unicolor presentations by limiting operation to the light transmission function, and reflect the pattern on fabric. We have prepared demonstration units to allow customers to examine possible plans from our broad lineup.
As the business has a more than 30-year history, our lineup contains a host of part-numbered, long-selling items that are kept in stock.
CubitTM offers extensive design variation. The manufacturing lines can deal with various weaving requirements to effect plain, mesh, and hexagonal patterns—to name just a few options—on the front and back faces. The lines can also support more than 100 color variants. We can also handle more complicated plans by taking advantage of the three-layer structure. Some major examples are for: a black front face and white back face combined to effect a gray color when seen from an angle; a middle layer composed of shiny monofilaments to add emphatic sparkles; and an iridescent phenomenon that occurs on the fabric surface as it appears to change color as the angle of view changes, created by organizing an appropriate structural coloration of red, blue, and green.
▲Demonstration unit (left). CubitTM offers an incomparable variety of design plans based on an infinite number of color combinations.
Environment-friendly material for extending driving range
Seki: Due to its weave structure featuring a high void ratio, CubitTM is notably lightweight. In the automotive sector, a challenge for EVs is the issue of driving range, to which one answer is reducing the vehicle body weight. In this context, CubitTM will be appreciated.
Yamazaki: We are also planning to adopt environment-friendly materials for all of the three structures—front and back faces and connective layer. Specific candidates include connecting monofilament yarns made of 40% plant-derived materials, and easily available recycled polyester fibers for the front and back face fabrics. We are also studying the possibility of employing biodegradable fibers, cellulose fibers, and other environment-friendly materials and using them in an optimal combination. Our future goal is to collect used car seat covers and achieve a 100% recycling rate for them, which is likely to become an industry norm.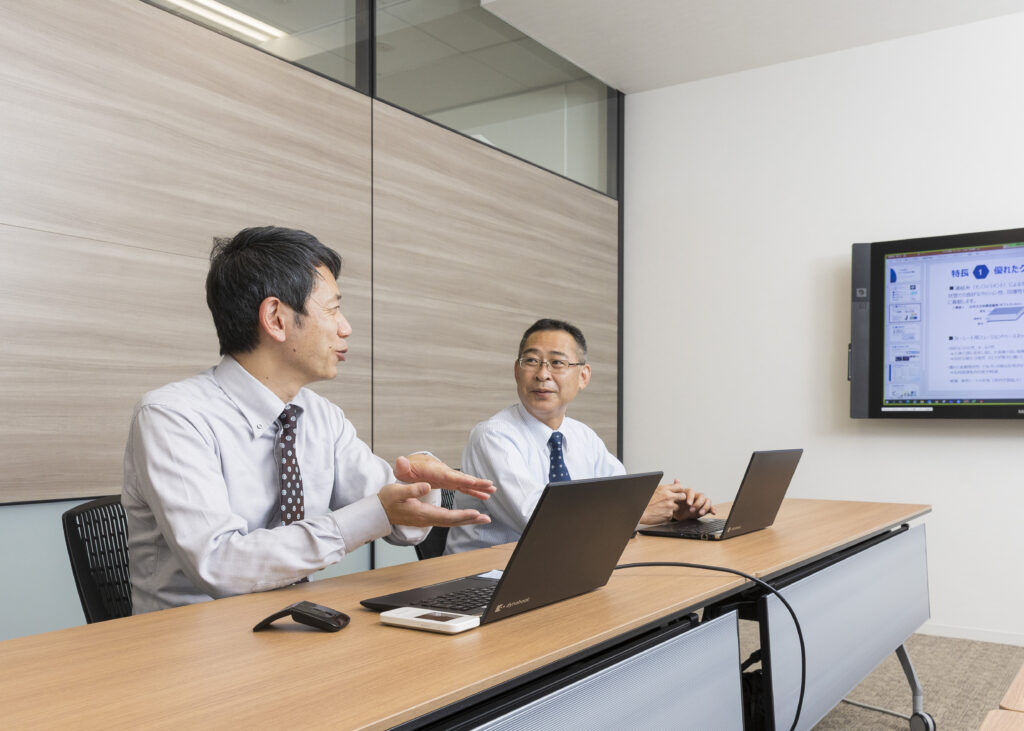 Thin interior fabric to expand usable in-vehicle space
Yamazaki: When making decisions the automotive industry primarily refers to past track records as important criteria. Despite this tradition, we are encouraging the industry to try adopting new products, such as CubitTM, while giving high priority to safety. As such, we will promote the value of new products on an ongoing basis. Such value is related to solutions to issues, such as car sickness. This is a condition associated with the passenger's organs resonating at a specific vibratory frequency of a vehicle in motion. CubitTM is able to demonstrate a vibrational absorption function that can change the frequency so as to reduce resonance with organs, thereby alleviating the passenger's condition.
Seki: Furthermore, we are eyeing the prospect of expanding the in-vehicle space through the use of thinner car interior fabrics. Given autonomous driving technologies will become popular in the future, we anticipate a growing demand for more roomy in-vehicle space to increase passenger comfort. We believe such need will provide CubitTM with an additional opportunity.
The above story will be followed by Part 2, which will consist of a report from Asahi Kasei's R&D Laboratory for applied product, where relevant researchers are studying emotional sensitivity to facilitate innovative product development.
Click here to contact us about Asahi Kasei's products and usage examples.
This article was published on February 4th, 2022.