vol.06 Creating for Tomorrow
Session 3: Next Generation Concept Car【AKXY2】
AKXY2 represents "Sustainability" for futuristic cars and forward-thinking people
Activities pertaining to various new product concepts are accelerating more than ever before as the world transitions into a more sustainable society paired with various economic measures spurred by the pandemic such as the "green recovery." These activities should be considered as essential steps towards a brighter future rather than a tough road ahead. Sustainability is the theme people are the most interested in among AKXY2's theme of the Three Ss (Society, Satisfaction, Sustainability). We are exemplifying Asahi Kasei's sustainability contributions in a way people can get excited and happy about with technology throughout AKXY2. For example, we have developed a hard-coating agent  made of resin material for the vehicle that allows greater flexibility for designs that cannot be achieved with glass materials as well as a curing agent for paint coating that gives the body an awe-inspiring appearance and is manufactured in a way that poses less burden on the environment. In this third session, we will focus on these use cases and explain what type of mobility visions AKXY2 can express from interviews with 7 representatives of technologies involved in this project: Naoki Tanaka, Keigo Sasaki, Atsutoshi Sugimoto, Akira Iwamoto, Shingo Yamamoto, Masakazu Yamauchi, and Yuuki Nakanishi. In addition, Takafumi Honjo, who has been part of this series of interviews since Session 1, will also be joining us.
Click here to contact us about Asahi Kasei's products and usage examples.
Incorporating Asahi Kasei's sustainable technologies into "AKXY2"
Honjo: "Some of the most prevalent examples of sustainability initiatives in the automotive industry are: powering the vehicle with electricity or hydrogen rather than gasoline, implementing more recyclable raw materials, and reducing CO2 emissions produced during manufacturing and driving. We first aimed to proactively contribute to initiatives that protect the global environment by analyzing all of our in-house technologies and choosing the ones that will allow us to contribute to sustainability the most, then embedding them into AKXY2 to help OEMs better envision what a realistic.
■Sustainability product example 01: Hard-coating agent for plastic glazing
New R&D! from glass to plastic – Water-based coating agent with value beyond material replacement
Tanaka: "The hard-coating agent for our plastic glazing process that we adopted for AKXY2 is  still under development and has not yet been commercialized. Although the industry has been working on replacing glass with plastics to optimize vehicle weight reduction for a long time, the technology improvement of paint coating agents for lighter weight vehicles has been the last missing piece of the puzzle. Polycarbonate, the main material of plastic windows, tends to get scratched when windshield wipers are activated as well as when windows roll up and down. In addition, if plastic windows are left outdoors, they turn yellow and lose transparency. To resolve these problems, we developed a coating agent with a few micrometers thickness that can prevent scratches and maintain original transparency."
Sasaki: "This new coating agent is water-based, so it eliminates the emission of toxic VOCs (volatile organic compounds), a concern for organic solvents that have been used in automotive coating materials for many decades. Therefore, our coating agent can assure the safety of coating line operators on top of being more environmentally friendly than other coating agents with the same performance. In addition, replacing glass windows with plastic can reduce the weight by 40-50%, which improves gas mileage and reduces CO2 emissions.
One of the benefits of plastic windows made from polycarbonate is the heightened level of design flexibility. Thus, it was possible to design windows with a high curvature for AKXY2. In the future, polycarbonate would be an ideal choice for exploring solutions beyond the confines of existing design, and when paired with our hard-coating agent, scratch resistance and maintained transparency also become a reality."
▲Expected use case of automotive application with hard-coating material for plastic glazing
The power of technology makes sustainability and our dream designs come true
Sasaki: "Since this product is still under development, we needed to do as much lab work as possible to fully coat AKXY2's paint. We are still developing and improving this product to meet the strict standard automotive requirements. Our customers find the water-based coating's added values, such as better gas mileage from weight reduction and improved design flexibility, appealing."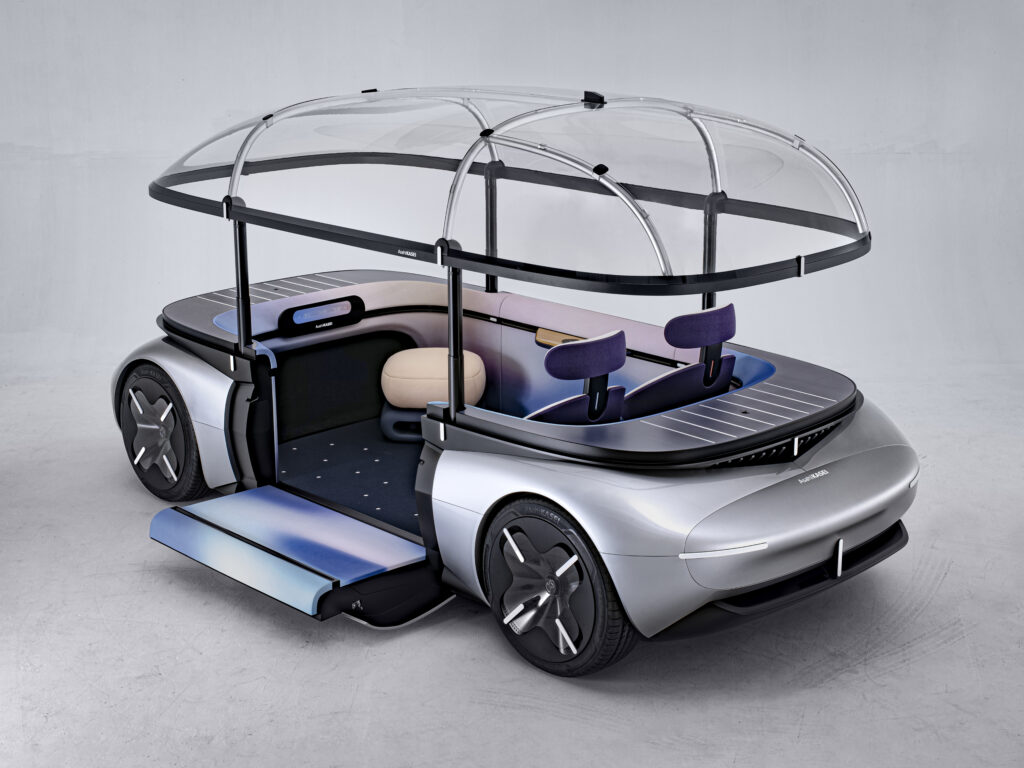 ■Sustainabiity product example 02: Asahi Kasei Alumininum Paste
Overcoming detriments the paint process poses to our environment and capturing hearts with a gorgeous shine
The coating process in automotive manufacturing requires a large quantity of solvents, which causes a dramatic burden on the environment. While the paint coating industry has been coming up with a variety of countermeasures, recently more companies are switching from solvents to water-based materials. Modifying regular aluminum paste into water-based paint was a great challenge because of aluminum's amphoteric metal property (it easily dissolves in acid and alkaline solutions). However, Asahi Kasei's aluminum paste has been treated by a variety of chemicals so that it can be easily modified to water-based paint and is a great contribution to the reduction of solvent emissions."
Contributions towards creating products people love and appreciate is also an aspect of sustainability
Sugimoto: "Color trends change in every era. Also, color and tone preferences differ depending on the end use. For example, people may prefer glossy colors on car exteriors, but for interiors they may prefer something that illuminates with a deep tone instead. I think that our biggest mission is to accommodate differing customer needs and continue to develop new fine-tuned materials."
▲Asahi Kasei Aluminium paste has been used in automotive exteriors, IT devices such as home electronics, cell phones and computers as well as interior components and building materials for elevators. It does not only offer versatile metallic colors that allow wide range of designs, but also concealing/protection from gas/water/UV and heat prevention because it reflects light and heat from the sun."
Yamamoto: "Color and design are closely related to people's feeling and everyone has something they want to convey, don't they? Most modern products satisfy people's needs based on functionality alone, but we want to contribute uniqueness and added value that people really want or wish they could someday have. I think that our revolutionary Aluminium Paste technology will also add value when replacing it with traditional plating that poses a high burden on the environment. I feel that it can push the bounds of expression and designability while taking care of the environment at the same time."
Iwamoto: "There are competitors in the world who are also manufacturing aluminium paste products, and some of them are developing new products that are really close to making metal look shinier without a grained-texture. I would like Asahi Kasei to continue leveraging its strengths and heighten functionality to keep putting out products that make us retain our position as market leaders."
Honjo: "Our aluminium paste has seen a variety of applications for silver exterior coating materials on the AKXY-series concept cars since the beginning. During the planning for AKXY2, we had numerous discussions within our team about Sustainability, a core concept throughout these series of projects, and concluded that, 'if we want to keep doing this, forcing people to endure something they don't like is not sustainable.' Aluminium paste has a high-grade design while reducing the amount of solvent used. I feel that it is an amazing solution that exemplifies the concept of fun with nothing to endure."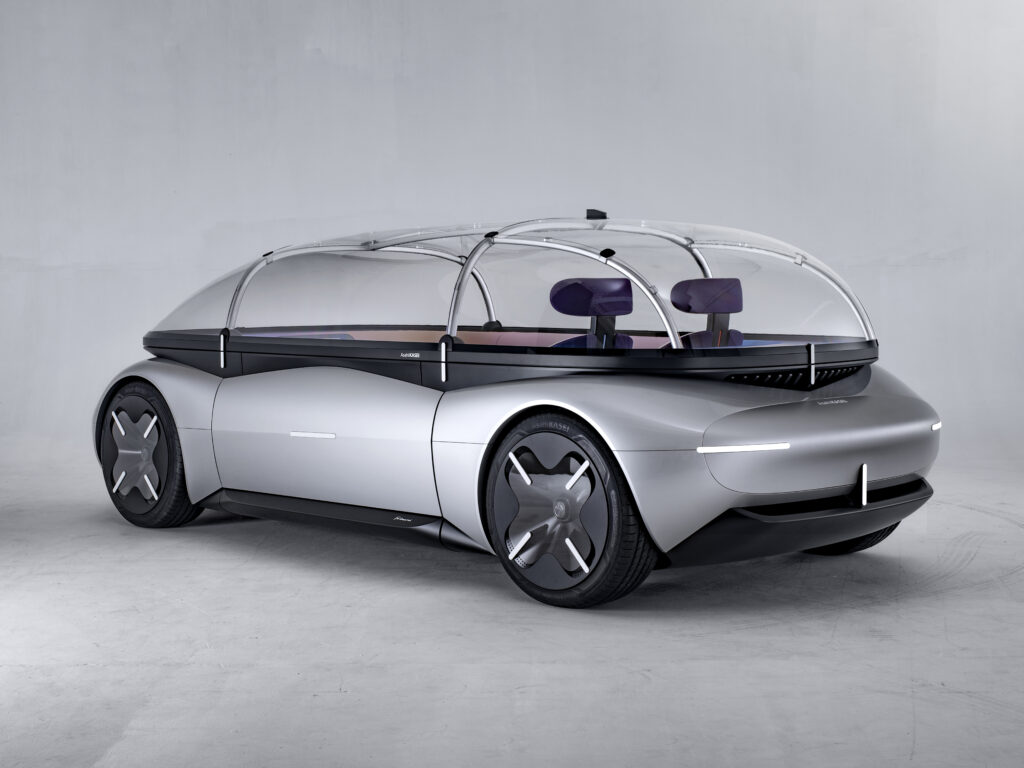 ■Sustainability product example 03: Duranate
Applying this water-based coating compatible curing agent to make up just 10-20% of the total paint composition can improve overall coating performance
Yamauchi: "Duranate is one of the raw materials for polyurethane coating and it is a hardener that achieves extremely high durability when blended with main coating components. Even if Duranate makes up just 10-20% of the total coating composition, it becomes a key factor for improving coating performance. Particularly because of its high weatherability, it is often used for outdoor coating that is in direct sunlight. Therefore, it is beneficial for coating that requires long-term durability like that of new vehicles, buses, trains, airplanes, skyscraper exteriors, bridge columns, wood floors, and so on.
As the Duranate evaporates from the diluted coating, a cross-linking reaction proceeds and the chemical components literally have a 'bridging' reaction, eventually forming a durable coating film. If cross-linking does not proceed within the coating, it can easily be scratched by even fingernails and it would show signs of damage if left outdoors for even under a month. Thus, I can confidently say Duranate is a must for the exterior body coating of vehicles.
Even though solvent-based coatings are used for automotive coatings , we have developed a high-solid coating hardeners to reduce the amount of solvent used as low as possible, and a water-based coating hardeners. In addition, we are developing a new product that can reduce the minimum baking temperature for cross-linking reactions below the current 140℃ in order to reduce energy consumption and CO2 emissions."
Nakanishi: "Among our products undergoing development, I am in charge of developing a new hardener called X-TTI. It has extremely low viscosity compared to traditional hardeners. One of its benefits is that even if it is baked at a temperature below 140℃, the coating film can maintain excellent durability. Our current goal is to lower the minimum baking temperature to 80℃.
I think that we will be able to develop Duranate so it can further reduce the impact on the environment in the future. I don't really know how to fully express this value… Even if I tried, I honestly don't think anyone in the world besides myself would understand. I believe my mission is to continue to explore these values and look for others who find it interesting, then ultimately gain appreciation from our customers. I have never worked on this type of project before, so it's a bit of a struggle."
The advanced chemistry of Duranate makes future vehicles more exciting
Yamauchi: "We are using a type of Duranate with AKXY2 that can reduce the amount of solvent mixed in the coating on the lower part of the body exterior as well as a water-dipersible Duranate on the wooden table inside the vehicle. When surfaces of wooden table are coated with this, you won't have to worry about stains from spilling coffee or other things.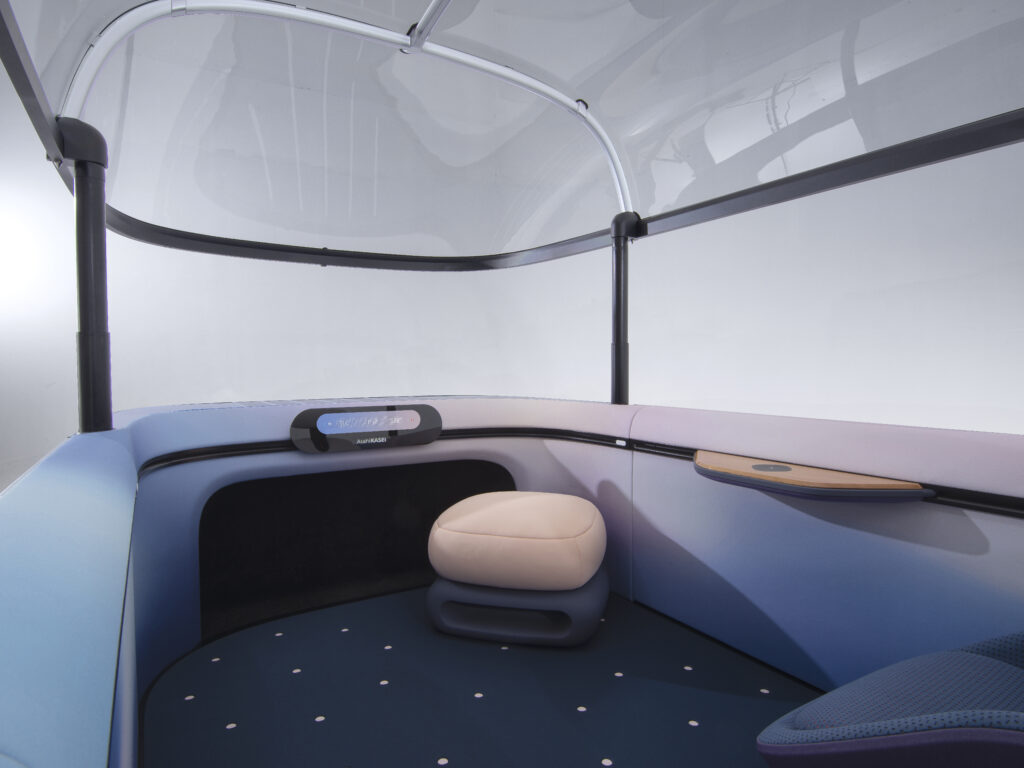 Honjo: "Our Duranate products are just one component of a variety of materials so the name is relatively unknown to the general public, but it has the power to drastically impact the performance of coatings. They say that 'the greatest value is found in the smallest details' but I think that people like me who used to work in chemistry feel that 'this is the type of work of a chemical manufacturer should be doing,' and that is so fitting for Asahi Kasei. I want Asahi Kasei to keep on doing the work it needs to do for the betterment of society and continue this course of progression."
On May 25th, 2022, AKXY2 made its successful debut at "Automotive Engineering Exposition 2022" in Yokohama after overcoming the numerous challenges of the pandemic. The AKXY series is a collection of concept car projects that Asahi Kasei began in 2016. At the time, many people questioned why a chemical maker would build a vehicle. When taking a step back and looking at how it has evolved, we realized the purpose had become to "create a next generation vehicle concept that will meet the needs of future human life and society." While the world continues to evolve and faces many transitions along the way, we strive to identify the activities and value perceptions that don't change and search for the best answers to the countless challenges facing society. This has been Asahi Kasei's mission since its founding, and yet it is not something we can complete on our own. As the name conveys, "AK (Asahi Kasei) X (Together With) Y (You)," we would like to explore ways to create a better future together with everyone. Asahi Kasei will always aim to continuously expand our technological capabilities in all of our expert fields across our Homes, Material and Health Care Sectors, including materials and electronics for the automotive industry.
Click here to contact us about Asahi Kasei's products and usage examples.
This interview was published on December 28th, 2022.