vol.06 Creating for Tomorrow
Session 2: Next Generation Concept Car【AKXY2】
What next generation "Satisfaction" can we expect from AKXY2?
The 3rd generation of AKXY – AKXY2 – is our latest concept car project and Asahi Kasei is proposing a total solution concept for next generation vehicles. This concept car will make its debut at the "Automotive Engineering Exposition 2022" in Yokohama, Japan on May 25th, 2022 – coinciding with Asahi Kasei's 100th anniversary. In the second installment of this special interview we will focus on the satisfaction part of our "Three Ss" that represent our AKXY2 concept (Society, Satisfaction, Sustainability). We will focus on our "PTT car floor mat" and "MEF Beads" as primary examples that contribute to satisfaction among the various Asahi Kasei products in AKXY2. First, what type of unique features and appealing aspects convey the "Satisfaction" of AKXY2? To find out the answer, we have interviewed Toru Seki of the Automotive Material Div. from Asahi Kasei Advance Corporation, Michitoshi Nakamura from Foamed Plastic Products Dept. Performance Materials Div. Mobility &Industrial SBU, as well as Takafumi Honjo of the Business Strategy & Marketing Dept., who also joined us in our first installment.
Click here to contact us about Asahi Kasei's products and usage examples.
Demand for vehicle satisfaction is never-ending
Honjo: "The 'Three Ss (Society, Satisfaction, Sustainability)' is the theme of the total concept of AKXY2. We consider this concept to be very important for enhancing vehicle value. Among the 'Three Ss', vehicle occupant Satisfaction does not necessarily derive from a single source. It can come from sound, temperature, the feeling we get through touch, the scenery that we see, and so on. All in all, satisfaction involves everything that people experience while being inside a vehicle. We are constantly seeking better Satisfaction – more comfortable driving, better acoustics, and so on. I believe this is endless despite how much the world may change and will continue even after EVs or sustainability becomes commonplace.
AKXY2 is equipped with many Asahi Kasei products that provide satisfaction. We think the most important aspect of the series of our concept vehicle models is to provide customers a real experience inside the car with their senses. To exemplify this, we would like to introduce our PTT car floor mat and MEF Beads as the signature products that allow occupants to directly feel comfort and satisfaction with their bodies."
■Satisfaction product example 01: PTT car floor mat
Futuristic, sustainable car floor mat for comfort and hygienic use
Seki: "We adopted monofilament yarn* made of high-performance polymer PTT (Poly Trimethylene Terephthalate) in the floor mats of AKXY2. The primary feature of our mat is the high-level shape recoverability compared to traditional car floor mats made of polypropylene and nylon. You feel a cushion-like, very soft touch.
(*Monofilament yarn is made of a single spun line usually used for toothbrush for example, while Multifilament yarn made of multiple spun lines that is traditionally used for clothing like T-shirts.)
Another key feature is its antifouling nature. Our mat is highly stain-resistant compared to traditional car floor mats made of polypropylene and nylon. Even if it gets dirty, it can be easily cleaned. If liquid spills on it, normal mats would absorb it into the space between fibers, but it can be wiped off our mats swiftly. They also sport easy maintenance and long durability. Therefore, it helps you keep your in-cabin space clean and comfortable.
The third feature I'd like to mention is that our mat is made of materials that have a low burden on the environment and better contribute to sustainability. 37% of the raw materials for these mats are derived from corn. These materials contain the parts of corn that people would never eat and usually throw out. In addition, the power consumption during our spun production is 30% less than that of nylon production and the overall CO₂ emissions are 63% less."
AKXY2's special vehicle doorstep with our PTT car floor mat
Honjo: "Our PTT car floor mat has actually already been utilized in the first-gen AKXY as well as the second-gen AKXY POD. The third gen AKXY2 has this mat installed at two different locations: the leg space on the front side of the car and on the side doorstep that can be flipped open. AKXY2 has a groove that circles around the entire in-cabin space that has many functions, but the PTT car floor mat is attached to the groove next to the door. it can be removed for cleaning and even be swapped out for another one with a different color or design."
Seki: "Depending on the thickness or length of the PTT car floor mat's yarn, its softness and texture changes. The same yarn material has already been used in toothbrushes and makeup brushes under famous brands. These makeup brushes made of thinner and longer yarn especially provide excellent softness of the same quality as some of the most premium brushes made from natural materials.
Our mat has unlimited color variations. The design can be changed in any way based on the color or way the mat is cut. It can even be turned into a carpet you can lay down on. We'd like to explore a variety of options to accommodate all needs imaginable. However, one of the bottlenecks of this PTT car floor mat is its cost. So far, it has been adopted by luxury car makers in and outside of Japan because of its comfort and sustainability qualities. As the automotive industry goes through its revolutionary transition, the market needs will gradually catch up with our objectives for the PTT car floor mat. Therefore, we feel that more automakers will begin adopting our mat for more vehicle models soon."
■Satisfaction product example 02: MEF Beads
Foam beads for the best relaxation in next generation vehicles
Honjo: "Since people spend most of the time sitting in the car, comfort of the seats largely impacts user satisfaction. Since we are expressing the autonomous world with AKXY2, we came up with the idea to create a completely different style that is difficult to imagine for conventional car seats, and built in a cushioned seat that is more comfortable than ever. These cushions are filled with a material called 'MEF Beads.'"
Nakamura: "MEF Beads are 3-4 mm in diameter and produced by foaming polyethylene resins to about 30 times their original volume. Each bead is light-weight and elastic compared to foam polystyrene beads typically used in bead cushions. It also bounces back quickly from repetitive compression and is less likely to stay crushed. Using it as a cushion material, you will feel extremely comfortable while sitting because it molds to the contours of your body. We are getting consistently positive feedback from our customers. Nowadays, this material has been more often used as a lining for high-end sofas and ottomans as well as medical pillows.
MEF Beads are not only used in their bead form or as a cushion, but they are able to be molded for a variety of applications. Even after getting molded and thinner, MEF keeps its cushioning property, is difficult to break, can be used again and again, and does not flake off or make noise when rubbed. Therefore, MEF has been used in headrests and interior components for automotive applications. As more EVs are introduced into the market over next several years, in-cabin space will become quieter than before. I have been hearing that every carmaker is struggling to find a noise solution to eliminate 'strange sounds' that weren't very noticeable inside traditional vehicles. For instance, MEF can be applied to parts where it touches metal to minimize the squeaking noise while driving. Additionally, MEF has excellent shock-absorption as well. Thus, it is not only used for automotive components, but also for shipping containers to protect materials during transportation. Furthermore, it does not easily break even after repeated use, so it has been long used in returnable containers for automotive parts.
We can create a more comfortable and stress-free in-cabin space by imagining the vehicle of the future
Honjo: "AKXY2 has a MEF Bead-stuffed cushion attached to the top of a stool. Its airy bounce as you sit and the way it cozily wraps around your body helps you relax. I think that sitting on something as soft as this stool will probably be a first-time experience for most people inside a car. The stool has no backrest, so you can freely move it around. You can sit on the bench behind it and put your feet on this stool. You can also take this stool out of the car and use it to relax outdoors. We'd like you to use it however you want, and it conveys the message to be creative and explore your own new ways of using it."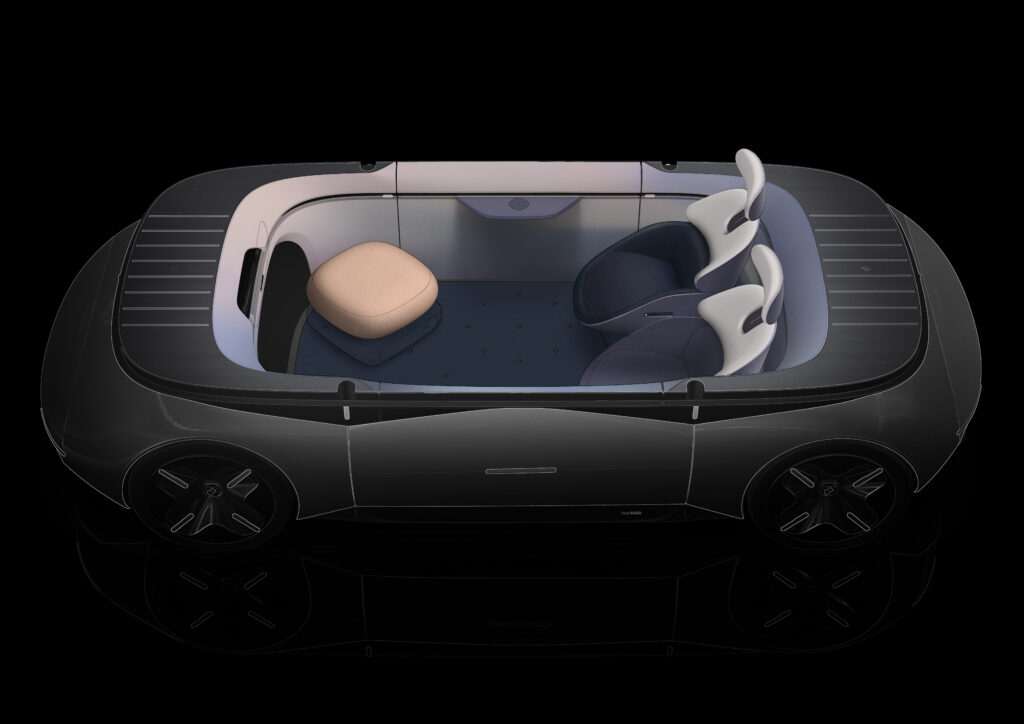 Nakamura: "The primary product feature on MEF that we would like to emphasize is its solution to the environment. Due to its high foaming property, a large amount of plastic is not required for its production. Thus, MEF enables volume reduction as well as combustion/thermal recycling (heat recovery). In the logistics field, I think MEF has been contributing a lot to environmental protection via the reusability of shipping containers because they do not break easily. We strive to provide more solutions and efforts to contribute to environmental protection in the future. As for "SUNTEC FOAM," a similar type of polyethylene board, we are developing a foam product using plant-base polyethylene plastic materials. At the end of last year (December 2021), we introduced the biomass grade of "SUNTEC FOAM" (development sample) at the "Sustainable Material Expo" and it made a big splash. It helped us realize that there is a strong need for environmental solutions in today's market."
Honjo: "I hope that MEF will be adopted for more varieties of automotive components, such as entire seating units and armrests that form to people's bodies. I am anticipating that future vehicles will offer more comfortable and free space, and I hope the same thing will happen to traditional car seating as well."
To me, its feature of forming to people's bodies is the most interesting aspect. This kind of seating is not only comfortable while sitting on it, but also stabilizes whatever object you place on it. Therefore, the seating can also be a place where you can put whatever object you want without sacrificing its design. Currently, the concept of "Shy Tech" is trending throughout the automotive industry. It makes me wonder if MEF could be used as a 'Beautiful and unified yet functional design' for Shy Tech. I am hoping to find some other companies who can share the same interests with us and launch a joint R&D project together. This is just my personal futuristic idea, though."
(*Shy Tech: A product that shies away from showing off its high-technology functions. For example, a smartphone which has a hidden switch to turn it to a flash light that gets activated once you touch the plain-looking screen while it's not in use.)
In the third installment, we will explore Asahi Kasei's signature products that convey the final of the "Three Ss," Sustainability, in an interview with more of our teammates.
Click here to contact us about Asahi Kasei's products and usage examples.
This interview was published on June 1st, 2022.