We hope to propose the value required for future mobility
and co-create it with our customers.
Next-generation Concept Car

WHY?
Why Asahi Kasei creates cocept cars
Asahi Kasei launched a full-scale project to create concept cars in April 2016.

However, the Company was rather a late starter because many other chemical manufacturers had already embarked on their projects to create concept cars. A project team was formed with staff members selected from inside the Company, all of whom were unfamiliar with the creation of vehicles. In addition, having a very wide range of products for automotive applications, Asahi Kasei faced difficulty focusing on a specific concept and representing it.

Nevertheless, with valuable support from external partners with great expertise in vehicle creation, we have been able to pursue the uniqueness of Asahi Kasei and create concept cars in order to raise customer awareness of Asahi Kasei's wide variety of mobility initiatives, increase our own understanding of mobility itself, and unite all Asahi Kasei staff to work on the mobility business. The AKXY advocated a novel way of contributing to automotive safety, comfort, and environmental performance, while the AKXY POD proposed a future mobility space that could bring great comfort through the senses. The AKXY2 will propose the value required for future mobility, which we hope to co-create with our customers.


"We hope to partner with people in the automotive industry to co-create new value."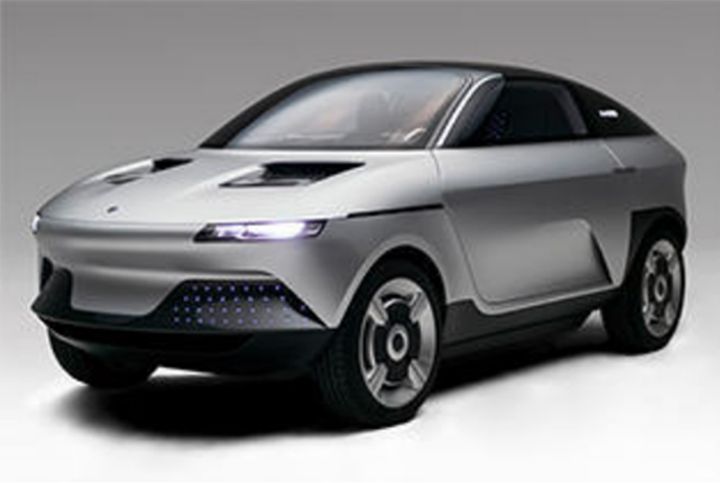 2017
AKXY
Showcases a wide variety of onboard products and automotive technologies to raise public awareness of Asahi Kasei's comprehensive capabilities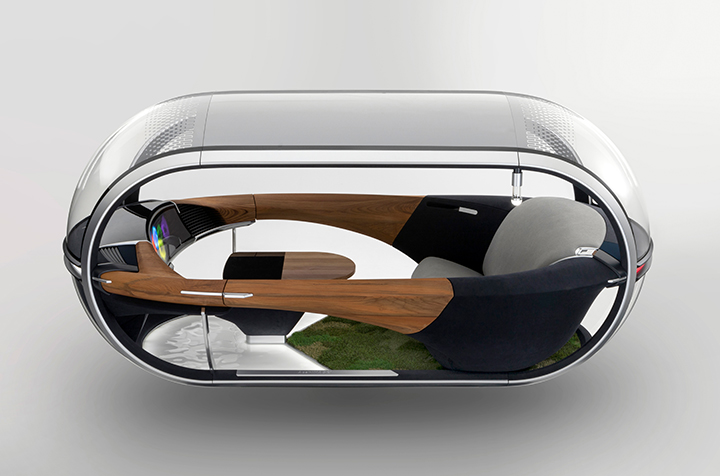 2019
AKXY POD
Demonstrates a comfortable space inside a moving vehicle in anticipation of an era of autonomous vehicles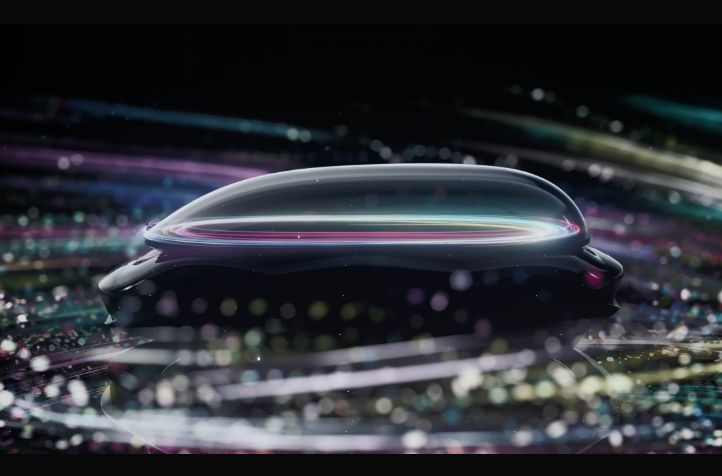 2022
AKXY2
Sustainability, Satisfaction, Society the AKXY2 embodies the "three S" concept by Asahi Kasei
CONCEPT MOVIE 
Concept
AKXY2 Proposes a Concept Focused on the "three Ss"

The conceptual pillars of the AKXY2 are the "three Ss," which are essential factors in increasing the value of automobiles. The three Ss are "Sustainability" in automotive life cycle, "Satisfaction" with automobiles, and "Society" to think of next level integration of vehicles into everyday lives.

Amid the increasingly serious problems of climate change, sustainability is an issue for which manufacturers must fulfill their responsibilities and a theme that urgently requires humankind to gather their wisdom. The AKXY2 features Asahi Kasei's various materials and technologies that can currently contribute to sustainability and will demonstrate their power more and more brilliantly from now on.

Satisfaction is a theme that is related closely to the senses, intuition, and mental and physical happiness. The AKXY2 adopts unique approaches and implements ideas that are unprecedented in conventional vehicle creation while meeting heightened requirements for value that automobiles are always required to provide universally, including comfort.

Society is the core concept of the AKXY2, because the concept car represents a future vision of automobiles from the perspective of their relationship with society. A particularly critical factor here is the COVID-19 pandemic, which rapidly spread worldwide before one year had passed since the unveiling of the AKXY POD, our second concept model. The pandemic has unavoidably changed our society and has led us to reflect profoundly on the value of cars in society. For example, a car can provide a space for users to devote themselves to their own activities while ensuring their privacy. A car can also enable users to enjoy real experience and communication that they could not achieve remotely. In these manners, cars can enrich people's hearts. We designed the concept car while considering anew this benefit that cars bring to us.

Our journey with the AKXY2 is not yet finished by our own efforts alone. The world today is filled with difficult challenges and requires us to have the will to continue to tackle the question of how we can create a brighter future. We envision that, in this situation, the AKXY2 will serve as a seed of discussions and co-creation with you to produce one-of-a-kind fruits of automotive industry.
Sustainability
Sustainability in automotive production
Sustainability of the automotive industry is expected to be a pivot of green recovery from the impacts of the COVID-19 pandemic. The shift to EVs is accelerating, and governments are imposing tougher environmental regulations on materials, production processes, etc. As a direct answer to this trend, the AKXY2 proposes solutions based on materials and technologies. It uses a newly developed coating agent, which reinforces transparent resin. The new coating enabled not only the replacement of heavy glass with resin but also flexible design, which could not be achieved with glass.

Moreover, the AKXY2 is designed to reduce the environmental impact of each stage of its production process, proposing an approach to making the entire life cycle of automobiles, from production and distribution to disposal, more sustainable. A prominent example of a contributory factor can be found in its coating process. Among all conventional production processes, the coating process in particular has caused severe environmental pollution and has had adverse impacts on the health of workers. To address this issue, the AKXY2 uses more environment-friendly and safer surface coating. Furthermore, the AKXY2 is also made of novel materials developed through research on how to replace conventional raw materials with plant-based ones and how to recycle recovered materials. In this way, the AKXY2 embodies the ongoing pursuit of sustainability.
Satisfaction
Satisfaction with automobiles
The satisfaction of automobile users depends on everything they experience on board, including the exterior and interior designs and functions, sounds, temperature, feeling of motion, the comfort level of the seat, touch, sounds of voices, and views from the windows. The AKXY2 features high-performance materials and electronics technologies tailored thereto, which have been especially selected from Asahi Kasei's wide lineup of such materials and technologies.

In anticipation of a world that autonomous driving technology will permeate, the concept car also proposes a new form of satisfaction, which conventional vehicles could not have brought. The AKXY2 has very soft, movable cushion seats, instead of hard fixed seats. The seat layout can be changed, and the seats can be taken out of the car. The interior wall has a circumferential groove, into which you can insert a wooden table top. In addition, the carpet is changeable. The AKXY2 is therefore designed to enable users to customize the interior space as they like.

Strong trends toward changes, including the EV shift, have been bringing unprecedented ideas to the automotive industry, giving birth to unique designs and novel functions one after another into the world. The AKXY2 represents our belief that automobiles will provide more comfortable, freer spaces in the future. Why not experience the AKXY2 first-hand, by getting inside and touching it?
Society
Society as a partner of automobiles
The COVID-19 pandemic has led people to reconsider their ways of using time and space. Some people now want to have their own room for remote work, while others now want to spend their time without close contact with other people. In response to this trend, the AKXY2 redefines an automobile as a private space where users can do what they want to while staying connected with society, whether or not the vehicle is moving. To realize the concept, the AKXY2 is designed to give users as great a feeling of openness as possible, with its entire upper half, including the roof, made of transparent resin, which is used as an alternative to glass. Users on board can see outside in all directions, 360 degrees, feeling as if they are in an open space despite actually being in a closed space. The AKXY2 is designed to allow users to sit on not only movable seats and sofas but also its front, rear and deck. Users can feel gently connected with the external environment, as if they are on an engawa (porch) of a traditional Japanese-style house.

Imagine driving to a campsite in a AKXY2 and gazing at the starry sky. You may park the AKXY2 on the roadside and enjoy a cup of tea with your friend. Or you can park it at your house and use it as your own room. We would be delighted if customers' experience of the AKXY2 ignited their imagination to allow them to develop ideas for new uses for it or things they could do in it, and explore a new future for joyful automobiles together with us.
Design
The design that embodies the concept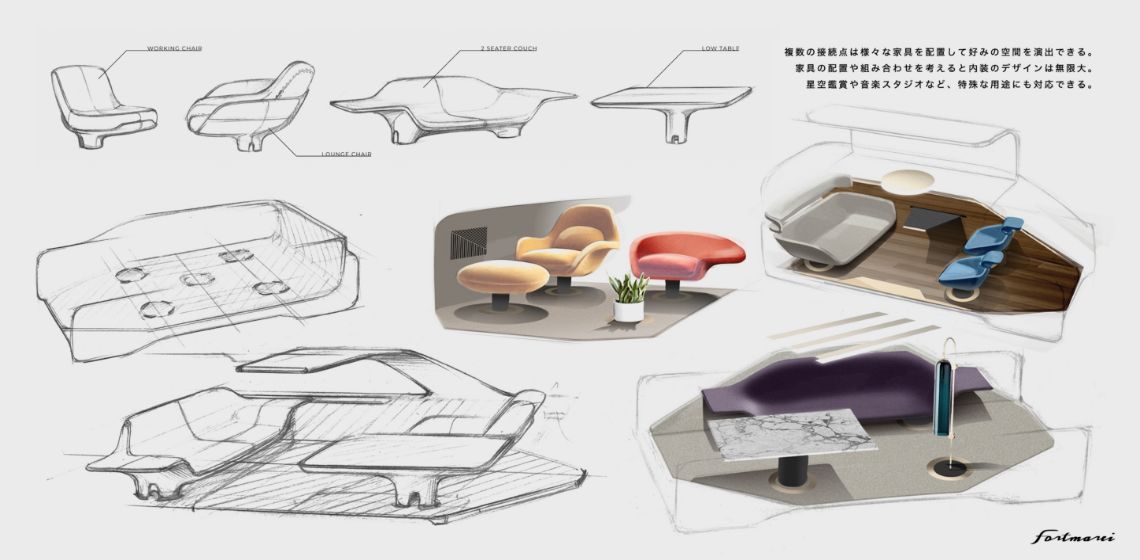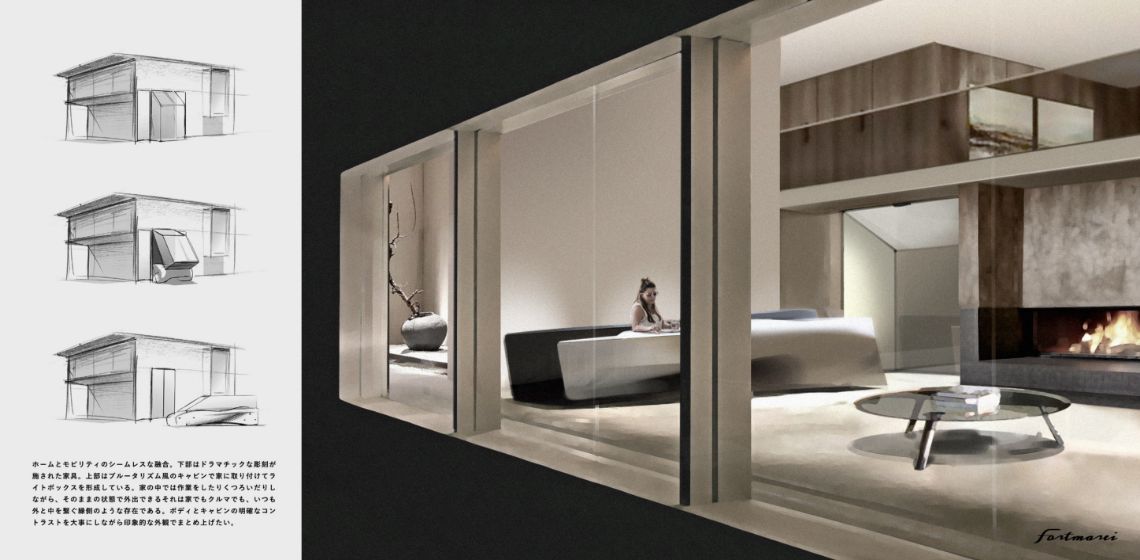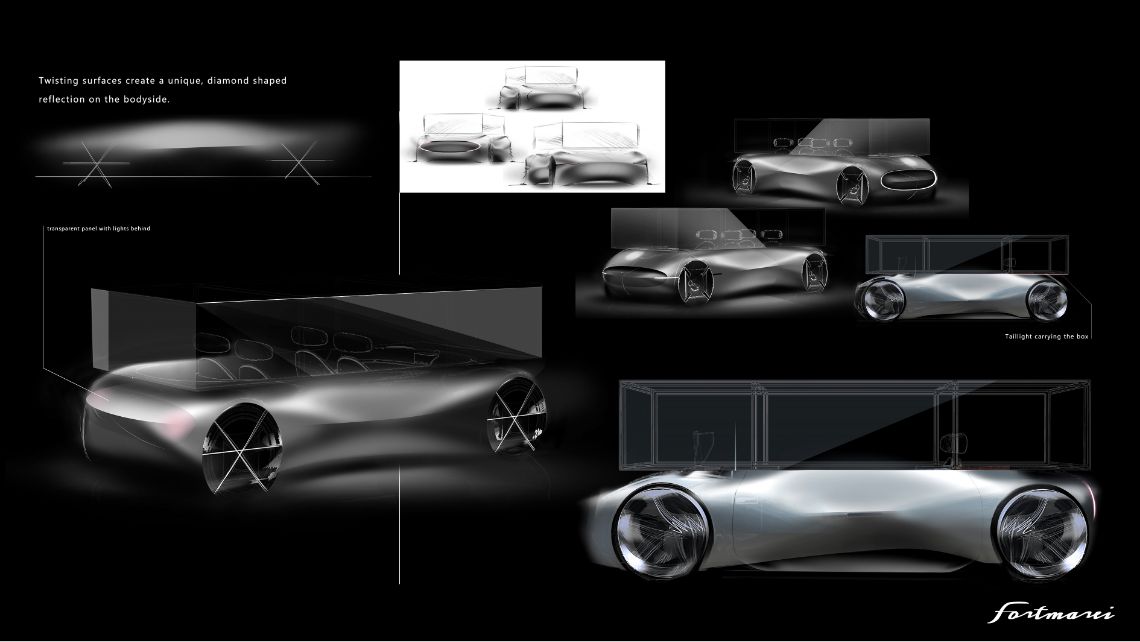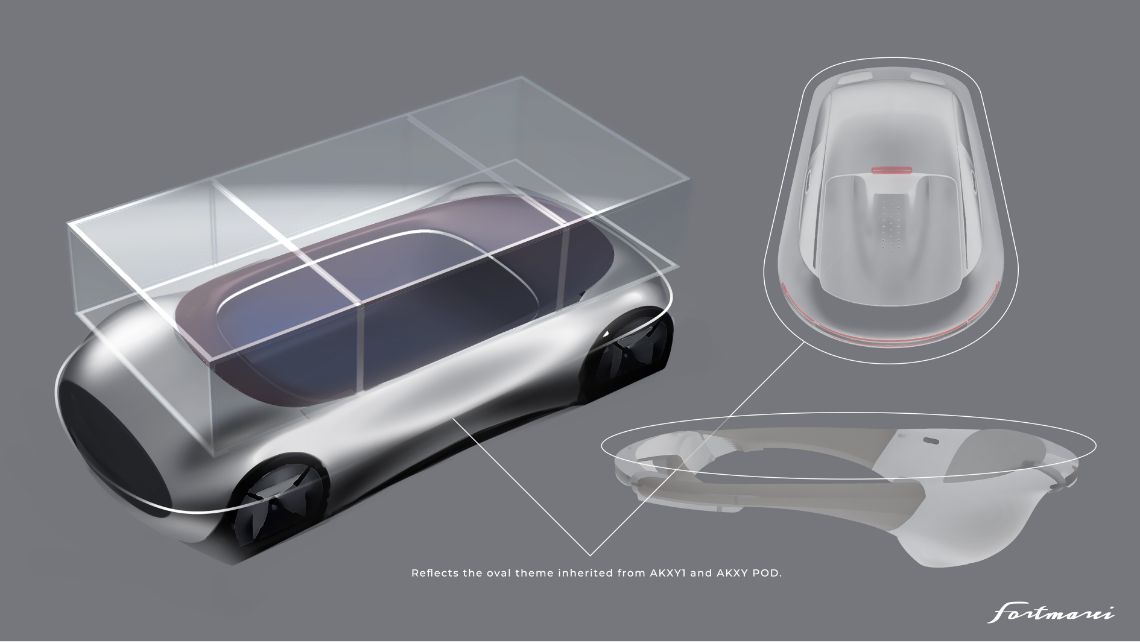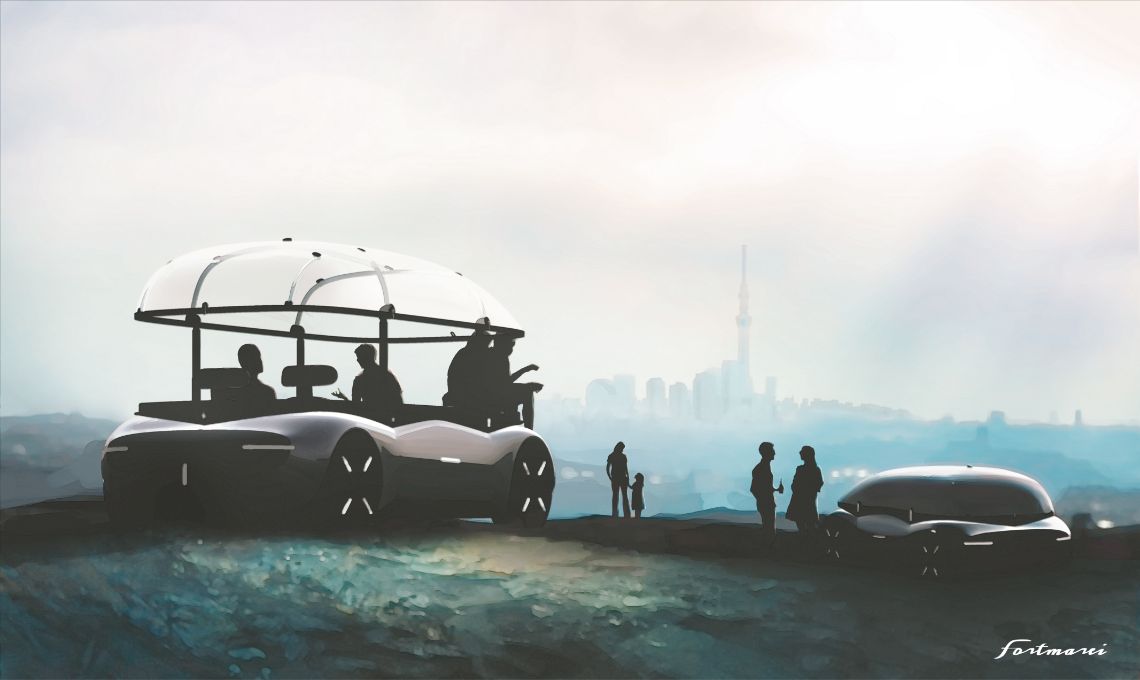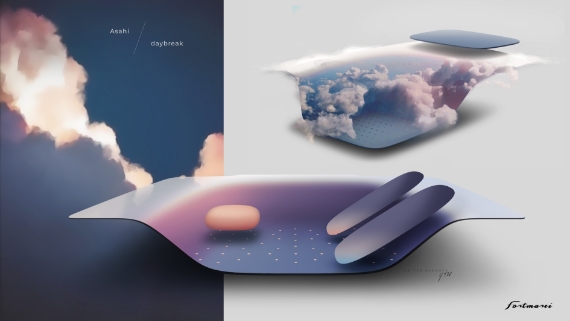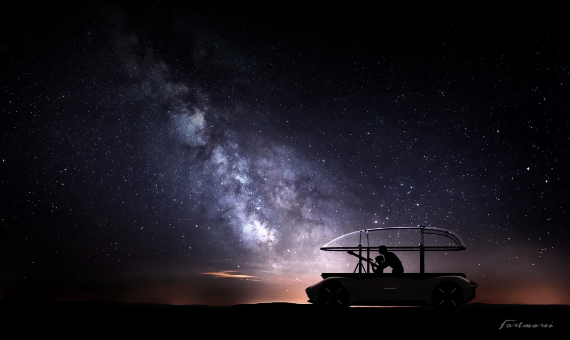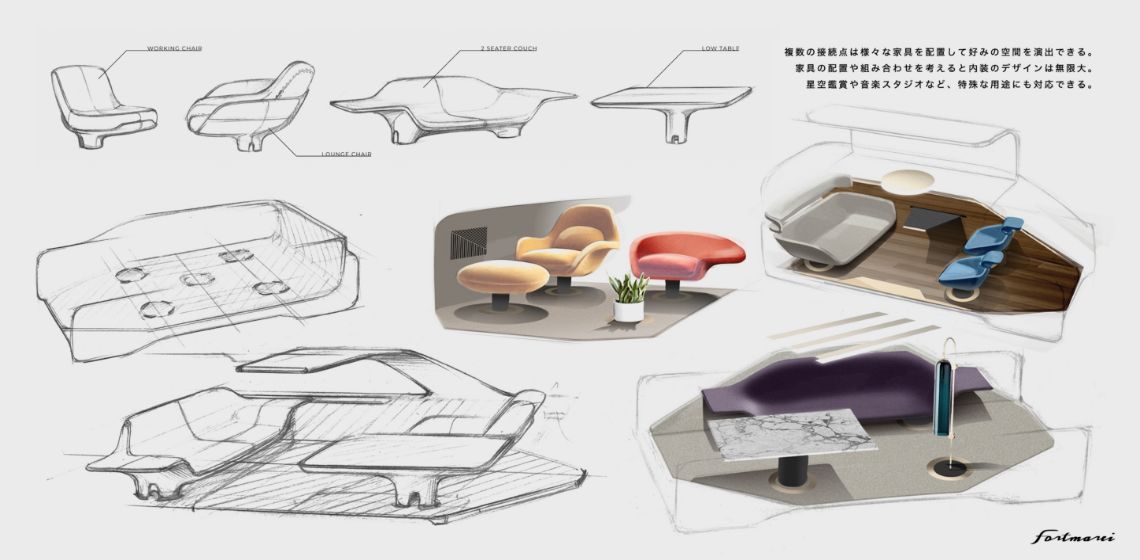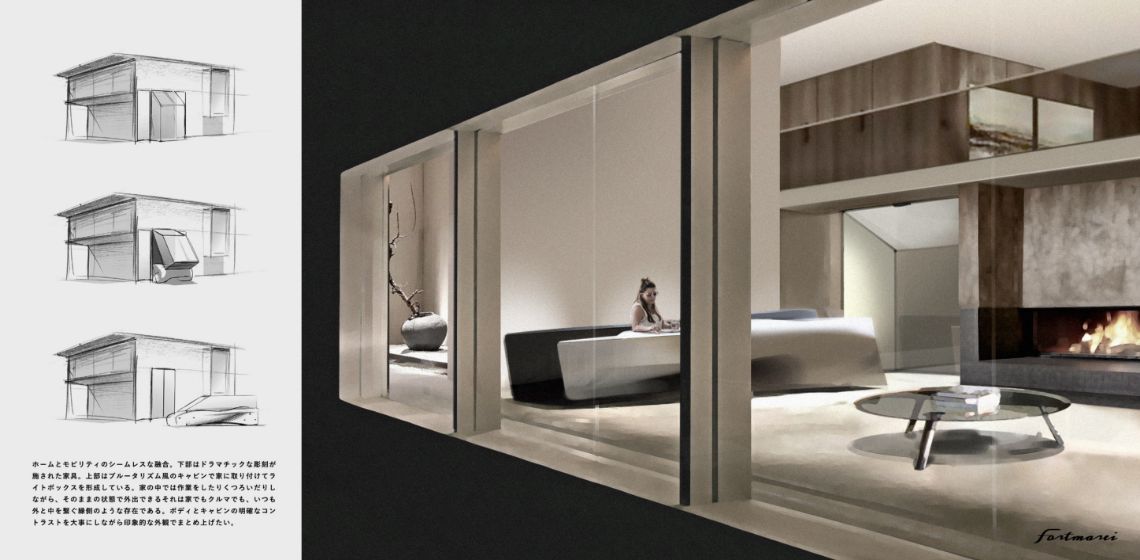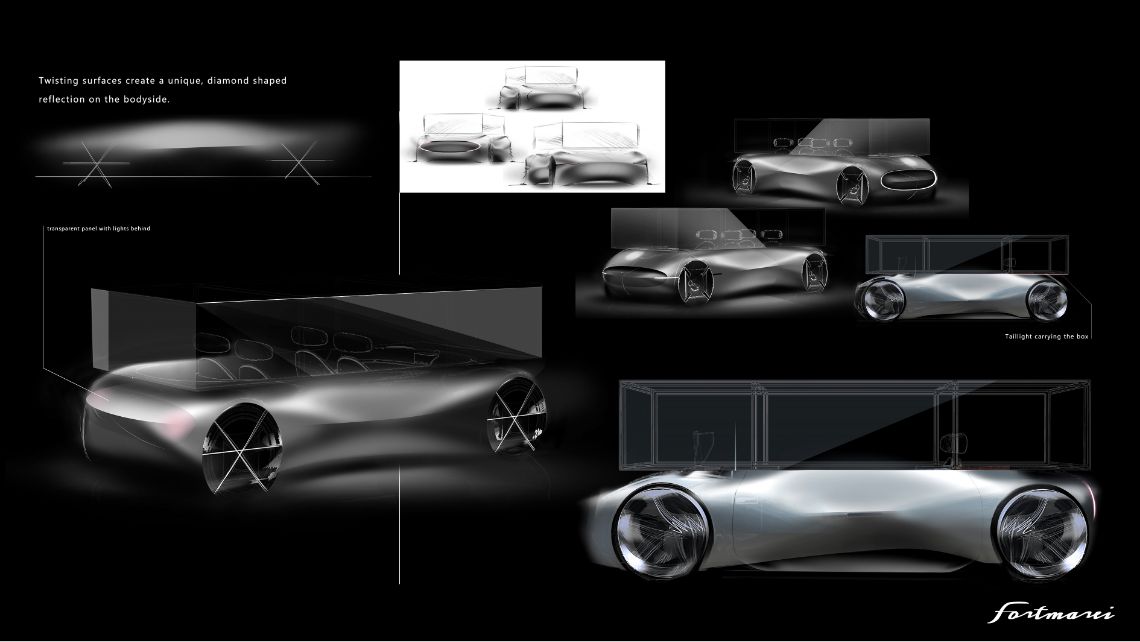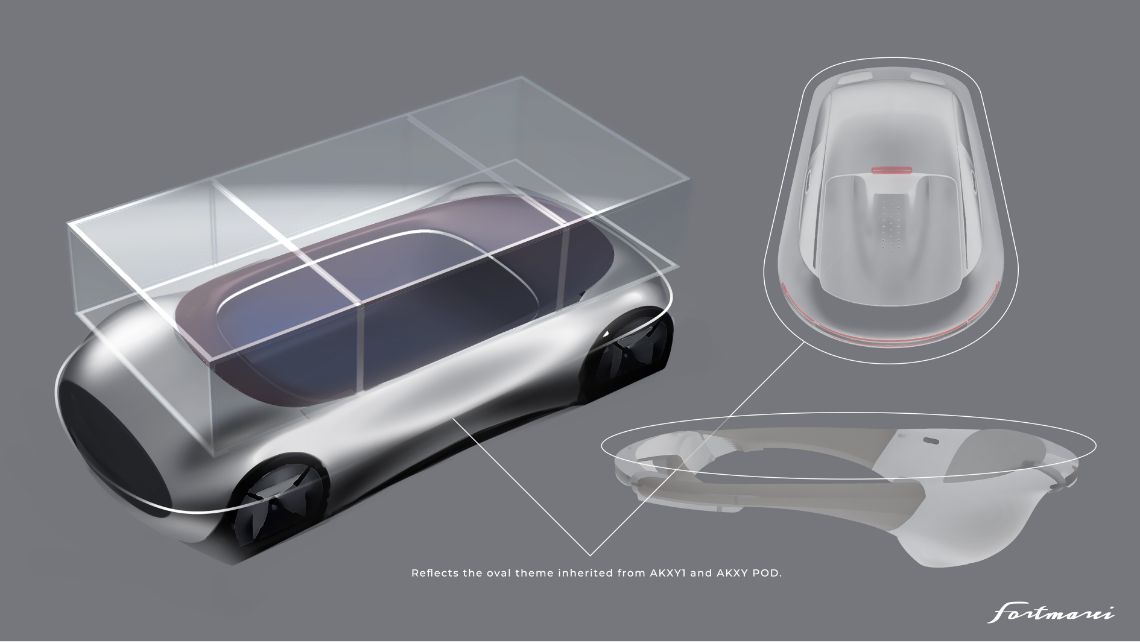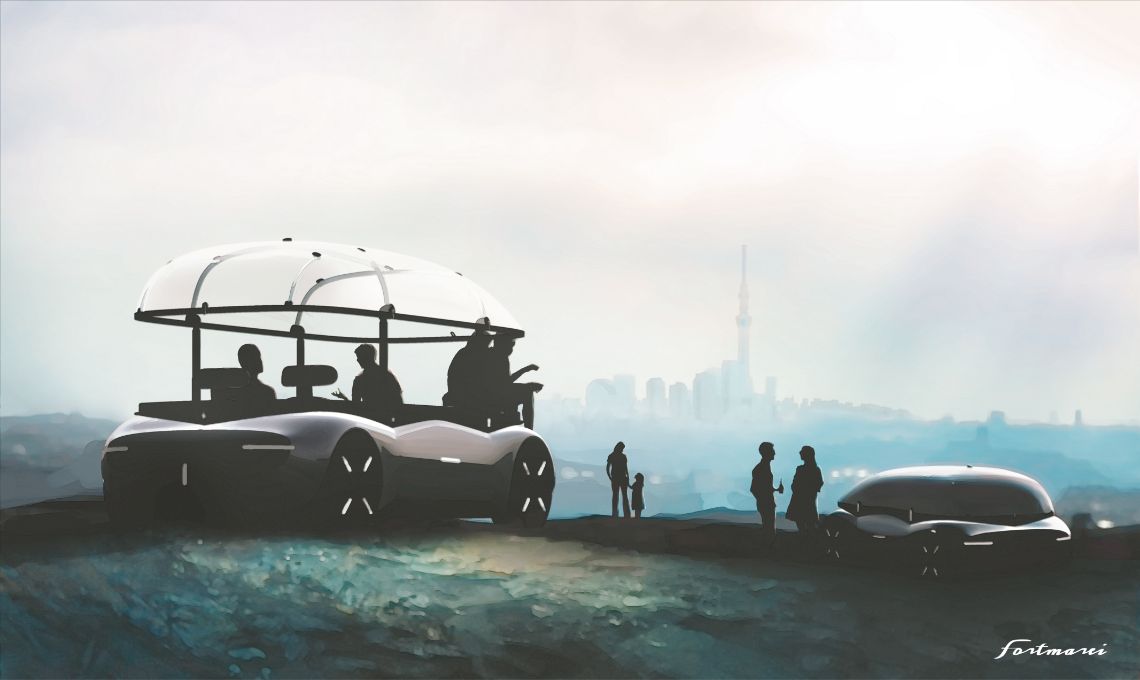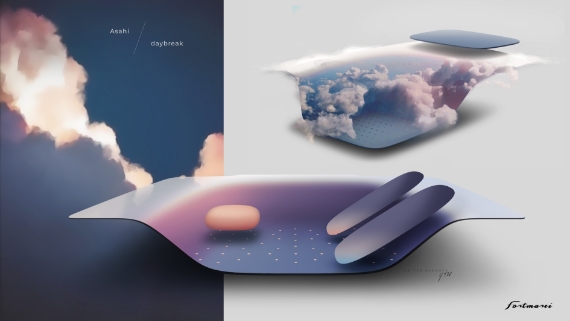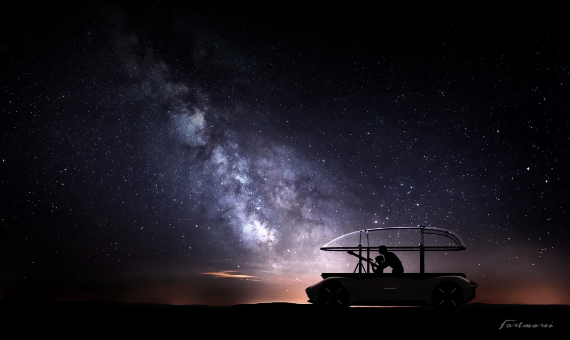 Our endeavor to design the AKXY2 started with an exploration of a way to embody the "three S" as intuitionally as possible. Just as with the AKXY, our first concept car, we have adopted a circular motif, which gives smooth surfaces and lines to the AKXY2 too. As a symbol of circulation and the cycle of nature, the motif represents sustainability and harmony between humankind and the environment. This circular motif dominates all design elements of the AKXY2, including not only its front and rear but also its "toproll(trim) ," exterior, and canopy. This circle is effectively used to add a sense of familiarity to the attractive, unconstrained shape of the vehicle. The silver-colored aluminum-paste coating creates a cutting-edge, neutral exterior appearance, emphasizing the shading of the gently curved surfaces. We envision that everyone will live a seamless flow of life even in mobile spaces in the future. The AKXY2 toproll(trim) is equipped with a magnetic grid and wall slits so that car travel will not disrupt the steady flow of people's life activities. The grid and slits enable users to attach various products, such as chairs and tables, to the floor and wall to personalize the interior space. In addition, air-conditioning equipment, sensors, and other devices can be inserted into the slits. Moreover, with various effectively arranged elements, the personal interior space is designed to be able to extend gradually at several levels. In a sharp contrast with the exterior, the interior is colorful and unique. Colorful fabrics and sustainable materials create an interior space that represents the era of diversity. A wood deck is attached to the exterior of the toproll(trim) , with benches attached to the front and rear of the vehicle, while the canopy can open vertically, enabling various uses both inside and out, 360 degrees. We have designed the AKXY2 to be able to exist in society as a bridge between the static and dynamic modes of people's lives and enrich their lives while blurring the boundary between inside and outside. This concept car embodies our dream of creating a car that will be loved for a long time.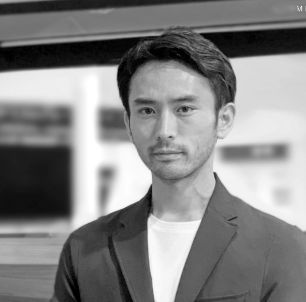 CEO of Fortmarei Corporation, the designer of AKXY, AKXY POD, and AKXY2
Ryuhei Ishimaru
Stories
Behind-the-scene facts of AKXY2 development
01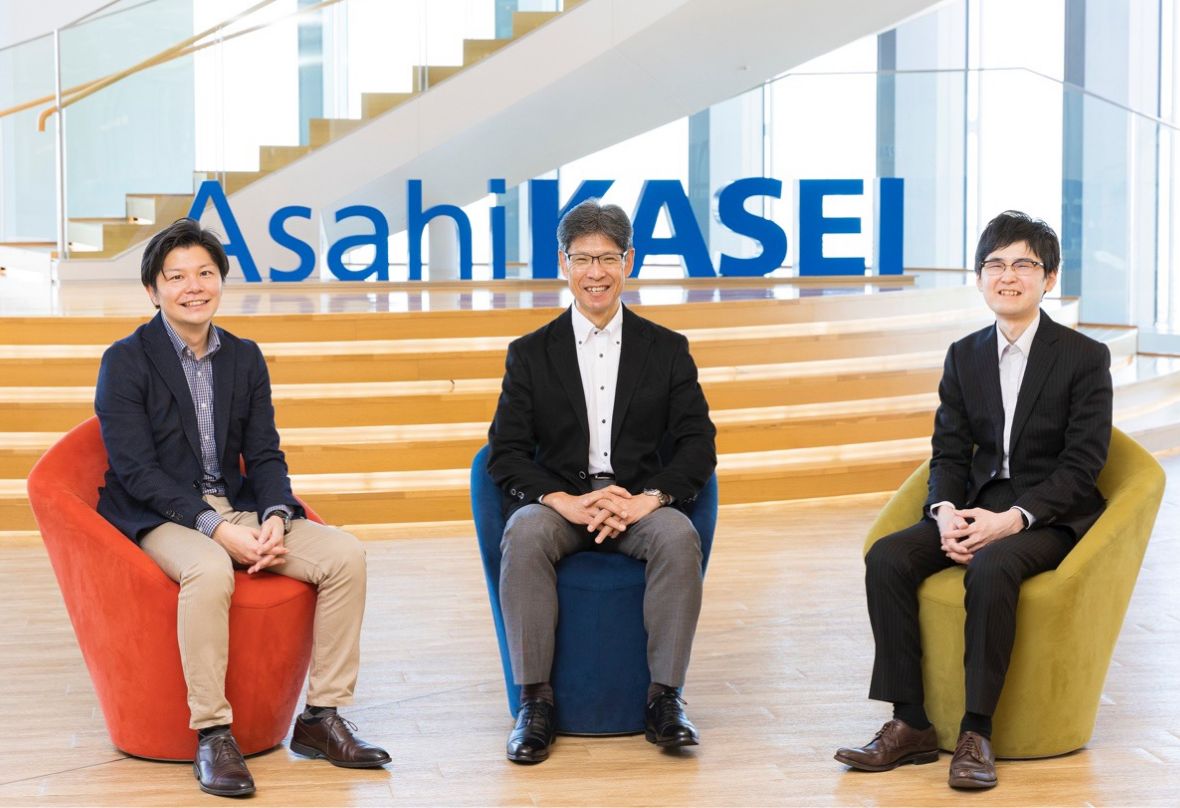 Why does Asahi Kasei create future automobiles?
: Continuing to tackle the challenges of creating concept cars: the AKXY, the AKXY POD, and the AKXY2
It is said that the automotive industry is in an age of once-in-a-century drastic change. Why does Asahi Kasei, which is not an automotive manufacturer, create concept cars? What message do these concept cars embody? Learn more about how the concept-car initiatives have been launched and what aspirations the project members have.
02
What next generation "satisfaction" can we expect from AKXY2?
We will focus on our "PTT car floor mat" and "MEF Beads" as primary examples that contribute to Satisfaction among the various Asahi Kasei products in AKXY2. First, what type of unique features and appealing aspects convey the "Satisfaction" of AKXY2?
The real AKXY2 will be unveiled at the Automotive Engineering Exposition 2022 in Yokohama.
We look forward to seeing many visitors there.
Mail Magazine
Sign up for our newsletter
Register your e-mail address
to receive the latest Asahi Kasei automotive news
Contact
Inquiries about the AKXY2
Please contact us for more information about AKXY2 and
related products.