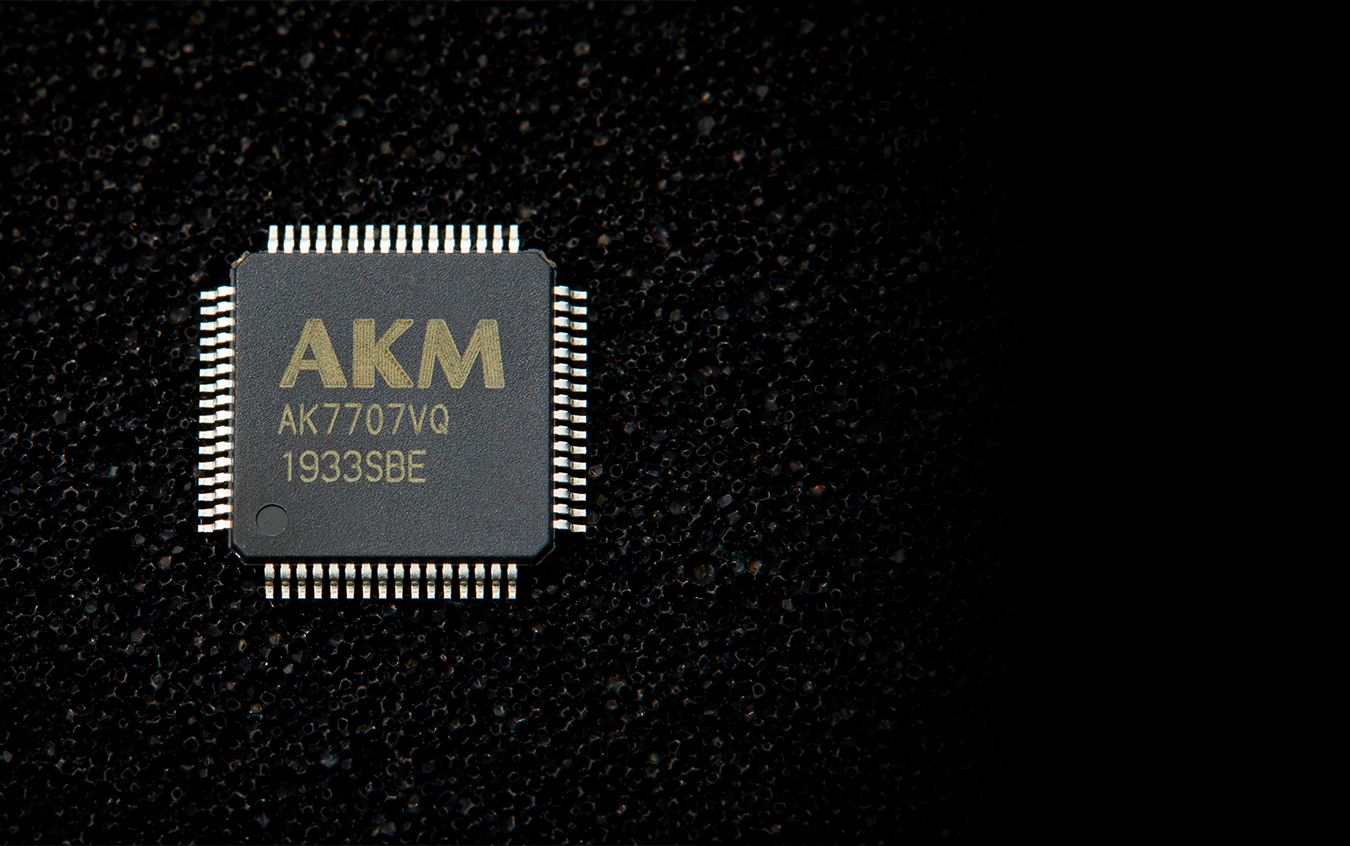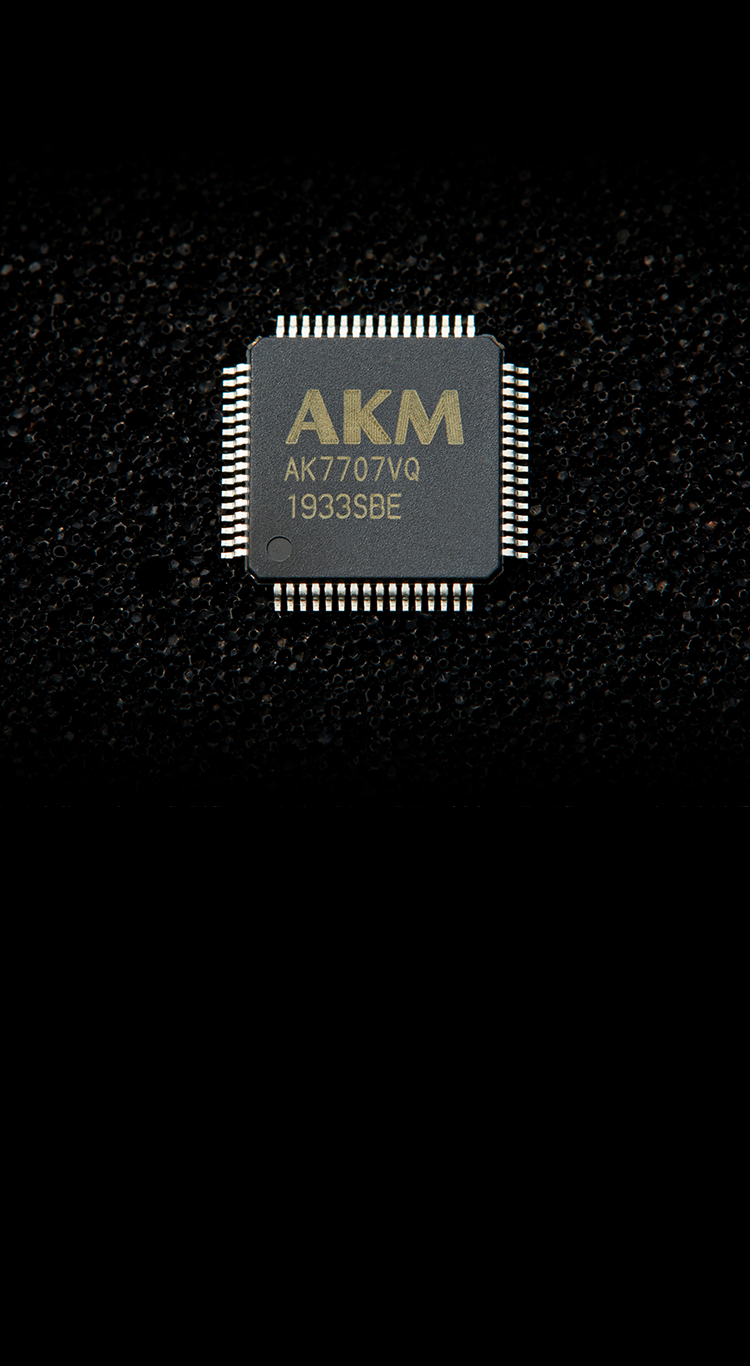 Audio voice DSP (digital signal processor)
AK7707
Multi-core DSP with audio hub
AK7707 is a multi-core DSP equipped with six stereo sampling rate convertors (SRC). It supports sampling frequency of up to 192kHz and comes with DIR / DIT. AK7707 is equipped with two types of DSPs for processing audio and voice signals.Changing programs allows the DSP to process a wide variety of audio and voice signals. The DSP enables processing related to high-performance hands-free devices, in-vehicle communication, active sound design (ASD), various audio signals, etc.
Q Is external memory required?
A Yes, it does.
The program downloaded by DSP must be stored in the internal memory of SoC or external Flash memory.
QWhat engine sounds can ESC create?
A We prepare the base sound according to the customer's request.
Then, tool that allows the user to tune using CAN information is provided to the user.
QCan engine sound creator be realized other than AK7707?
A AK7015,AK7016 is also available.
QPlease provide commercial distribution information in each area.
QDo you have AEC Q-100 data?
The DSP allows the head unit and the amplifier unit to process a wide variety of audio and voice signals.
The DSP allows the head unit and the amplifier unit to process a wide variety of audio and voice signals.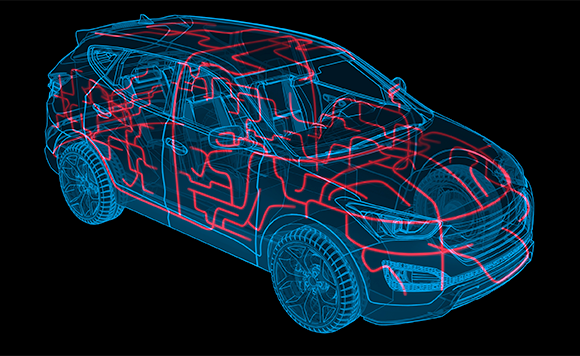 Feature

01
Simple sound source routing and sound processing
AK7707 can have maximum of 64 channels of inputs/outputs. It is equipped with an audio hub with 6 SRCs which makes it easy for the users to integrate and route sound sources of different systems.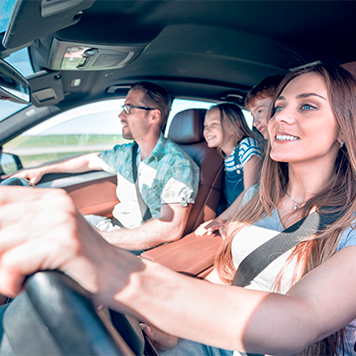 Cadence's Hifi cores and AKM's proprietary Audio DSP, which operate at a Max-clock frequency of 295MHz, enable a wide variety of handling on a single chip.
Feature

03
Unique audio and voice functions
Examples)
Voice function:
Handsfree, In-Car-Communication, Speech Recognition Pre-Processing, etc.
Audio function:
Real Space Sound, ASD function (EOC,ESE,ESC)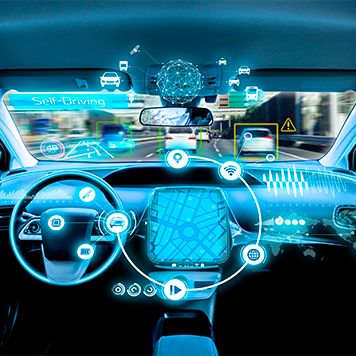 Usage example

01
Engine Sound Creator (ESC)
Generates realistic engine sound using CAN data such as vehicle speed and accelerator operation.This makes it possible to drive EVs and hybrid vehicles while enjoying realistic engine sound.
By projecting the engine sound to the outside of the car, it can also be used as a warning sound to the surroundings during low-speed driving of an EV/hybrid vehicle.
*Reference Video
Demo Vehicle:Nissan Note e-power
Location:Tokyo Metropolitan Highway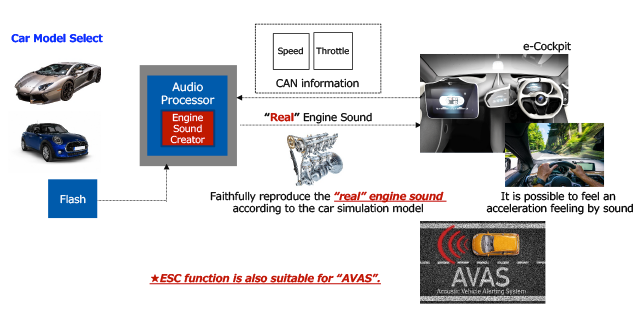 The merit of creating real engine sound with synthesis method:
1) Data can be synthesized in small size (1 model: 128KB)
2) Realistic engine sound can be achieved
Usage example

02
Real Space Sound (Audio Effect)
Optimizes the acoustic space in the cabin to deliver a bright and comfortable sound. Various audio modes allow all passengers to easily select their preferred acoustic space.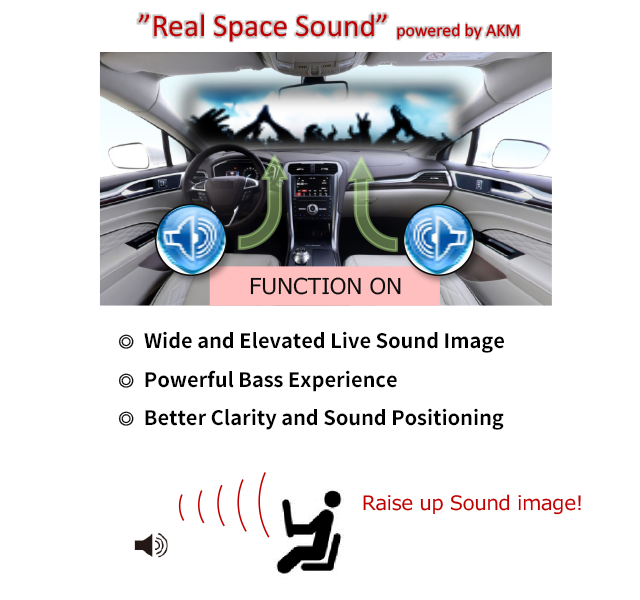 Usage example

03
In-car-communication
The driver and the passengers in the rear seat can safely communicate with each other under noisy conditions with AK7707's in-car-communication function. The driver's voice is picked up by the microphones and projected from the rear speakers.
AKM's unique voice processing technology provides minimum delays and howling against change in cabin environment such as opening of the windows for natural conversation experience.
A two-way in-car-communication is made possible by picking up the passenger voices in the rear seat and projecting them out from front speakers by using the same method.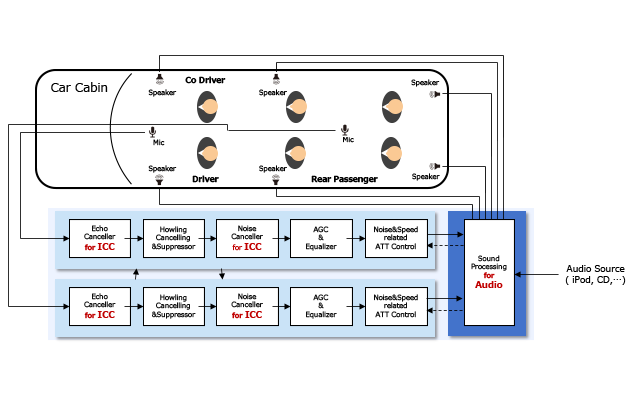 Usage example

04
Hands-free
The hands-free function realizes natural conversation while maintaining sound quality by implementing an echo canceller with quick echo convergence and a noise canceller with natural noise suppression. It can also support standards such as ITU-T and Carplay.