vol.01 专题「舒适的空间」
Taking Calls While My Kids Are on Zoom Is Nearly Impossible, So I Work From My Car
A few weeks into the COVID-induced stay-at-home routine we noticed our pet tortoise, Tankm was acting strange. It seems she was burying herself in her terrarium to get away from all the noise.
What noise?
Four humans, now home…nonstop. Two adults working and on video calls, plus two children, one enthusiastically teaming up online with friends on Fortnite missions and the other animatedly chatting via Zoom.
One day, we moved Tank to her outdoor enclosure; she escaped and hasn't been seen since.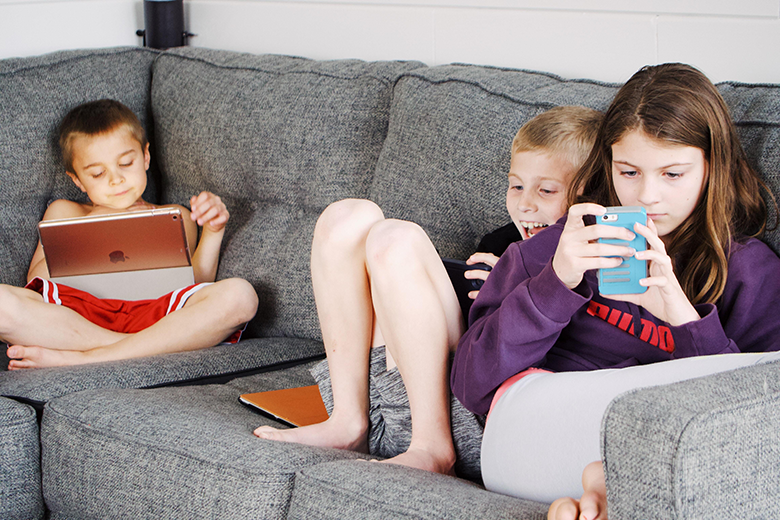 It was my Zen before COVID, so why couldn't it be my Zen space during it?
As a working mom, I can understand Tank's need for time and space for herself. Fortunately, I did find a space that brought me some Zen: my car.
Granted, I work for a car company, so that solution might sound self-serving. But, like many working parents, much of my day is spent talking with colleagues in meetings. Ten Zoom meetings a day is not unusual, and then there are the regular emails, and my engineering work that of course requires my complete focus.
We do have a home office, but it's sized for one, and the electric standing desk in there makes it ideal for my husband, who has a bad back. I crafted a cozy makeshift office in our bedroom's walk-in closet, which isn't so bad, and even has a window. But during this new work-from-home mandate, I discovered one thing I was seriously missing—my commute.
I realized I actually enjoyed my time in the car. I had that 45 minutes all to myself. My own comfortable seat. My own music—no JoJo Siwa at all. It was my Zen before COVID, so why couldn't it be my Zen space during it?
Using my car as an escape from home now made sense. Once I was settled into the driver's seat of my Nissan Maxima, I was able to completely reset. I played my music when not on calls. And the Bluetooth in the car is piped through the speakers, making it feel like surround sound—which, depending on the meeting, could be a good or a bad thing. A car's built-in microphone also has terrific sound isolation because it's designed to block out road and wind noise, so when you're sitting in your driveway, it's especially crisp and clear.
Transforming my car to an office wasn't that hard. I started by simply moving the driver's seat as far back as it would slide to give me room to stretch my legs and for the laptop not to bang against the steering wheel. A travel neck pillow served as a "desk" to balance my laptop and keep my legs cool. My wireless mouse worked just fine on the car's center console, although I know some people just use the trackpad. And our Wi-Fi easily reached the driveway, so staying connected wasn't a problem.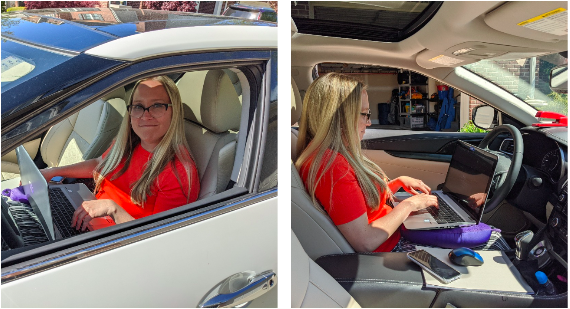 We need to understand what each one of us needs to not just get through the day but to stay mentally healthy every day.
When the weather was cooperating, I would even open the windows and enjoy the fresh air and sunshine. And while I couldn't spend all day in the car, I found the hour-or-so sessions were just a long-enough break from helping to teach the kids in the morning and their afternoons of digital social hours. Surprisingly, or not, the kids were too entranced in their online conversations and virtual battles inside to come out and knock on the car window.
I recently returned to the office on a part-time basis, which means my commute is back. But I've learned that my Maxima can be a terrific office of its own when needed. Plus, I think working from home at least a few days will be part of our new normal.
This whole time has also taught us a lot about being a family. I've learned we need to understand what each one of us needs to not just get through the day but to stay mentally healthy every day. For my kids it was staying socially connected electronically, and for me it was finding a space to call my own…even if it was in my driveway.
Heather Konet is an engineer in Nissan's Human Factor & Ergonomics division where she works on connected services. She is also the author of a series of children's books focused on learning STEM and The Diary of Tank the Tortoise. She lives in Michigan with her husband, two children and hopefully, a tortoise.
This article was written by Heather Konet from Working Mother and was legally licensed through the Industry Dive publisher network. Please direct all licensing questions to legal@industrydive.com.