vol.04 Sound Management
UK Music Producer Remixes the Engine Sound of the Evija EV Hyper Car
Lotus has announced that it has collaborated with a renowned UK music producer who was inspired by the sound of Type 49's engine to develop various sounds for the all-electronic hyper car Evija.
This music producer's name is Patrick Patrikios, who has written and produced songs for a number of world-class stars including Olly Murs, Sia, Britney Spears, and Pixie Lott. His collaboration with Little Mix was nominated for the Brit Awards in 2018, with his track streamed over one billion times.
Patrick says, "We wanted to create a soundscape for the Evija that was recognizably and distinctively Lotus. I sat with the development team at Hethel and discussed what that should be. We wanted something intrinsically connected to Lotus so we could set an audio blueprint for its future electric cars." He also liked the idea of using the famous Lotus Type 49 as a starting point, one of the best-known flagship racing cars in history. "There's a purity to that V8, a raw edge and an emotion that stirs something in your soul, just like the best songs," says Patrick.
This process started with Patrick importing a recording of the Type 49's sound into his computer. While digitally manipulating the sound, he and the Lotus team realized that by slowing the engine sound down, it was possible to generate a sound much like the natural driving sound generated by Evija's all-electric drive train.
https://www.youtube.com/watch?v=yZkmuLcTNKM&feature=emb_logo
"I adjusted the replay speeds and digital filtering of the Type 49 to generate a soundscape for the Evija – it was a very organic process. We all wanted something to spark an emotional connection between car and driver. Sound is hugely influential when it comes to creating and forming emotions, to enrich that bond that's such a critical part of the Lotus experience."
Patrick went on by concluding, "I love that the sound from one of the most iconic Lotus race cars of all time has been the inspiration for its newest. There's a symmetry to it which is beautiful." Thanks to his father's influence, who also loved cars, Patrick has been a fan of Lotus since childhood. Being an Evora driver himself, he has been spending his time in Los Angeles and the UK working not just on the soundtracks of Hollywood movies but producing songs for internationally famous recording artists. His major task was to create external sounds for Evija, which boasts an acceleration to 186 mph (300 km/h) in less than 9 seconds. Using the Evija soundscape he had created, the car's chimes and tones were also developed, including the indication signals and seatbelt warnings.
Few motor sports brand racing cars are as famous as the Lotus Type 49. Legendary driver Jim Clark won his first F1 driving it in the 1967 Dutch Grand Prix. For the rest of the season the Type 49 did not lose pole position in a single race. In the following year, Graham Hill won the F1 Drivers Championships in a Type 49.
So far only 12 Type 49s have been produced, two of which made significant world debuts. The first was the model that reigned over the F1 grid for over 10 years, mounted with a totally new Cosworth Ford DFV engine for the first time, developed by Lotus. The other model featured a red, white and gold color scheme, symbolic of Lotus's first sponsor Gold Leaf. This color combination became one of the most famous color schemes in motor sports.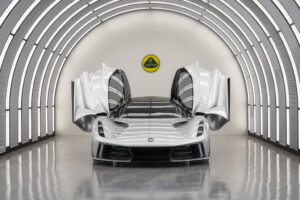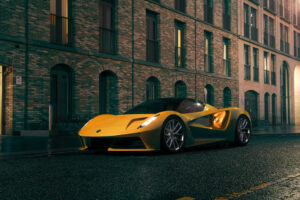 This article was written by Octane Japan and was legally licensed through the amana Inc. publisher network. Please direct all licensing questions to licensed_content@amana.jp